CLC member Sorn's father found to be an aide to the prime minister of Thailand
Recently, it was discovered that the father of Sorn, a Thai member from rookie girl group CLC, is an aide to the prime minister of Thailand.
CUBE Entertainment's rookie girl group CLC is to be featured in the upcoming episode of MBC Everyone's Weekly Idol on May 13th (KST). It is unprecedented for a rookie idol group with only two months since their debut to star in the show.
During the recording, Sorn's family background surprised MCs Jung Hyung Don and Defcon. Recent rumours revealed that Sorn's mother is a famous actress and her father is a renown politician in Thailand. Sorn replied, "My mother is an ordinary housewife and my father was an actor. Today, he is an aide to the prime minister."
After hearing the surprising news, MC Defcon stood up and showed respect humorously to Thai's 'um-chin-ddal' (a Korean term for mother's friend's daughter). MC Hyung Don too spoke in Thai addressing Sorn's father, "Don't worry about Sorn~ If I ever go filming in Thailand, please treat me with poo phat pong kari~."
Don't miss this episode which is set to air May 13th at 6pm KST.
*NOTE: 대통령 (translates to president) was used instead of 총리 (translates to prime minister).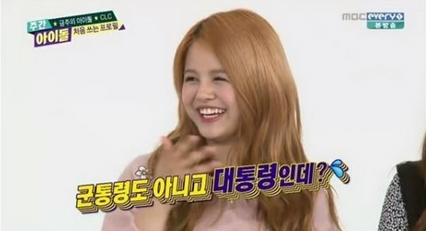 Source: Sports Donga
Share This Post