CNBLUE's Yonghwa beats Super Junior's Kyuhyun and EXO's Sehun for 20th straight win on "Gaon Weibo Chart"
On April 8th, CNBLUE's Yonghwa celebrated his 20th straight win on the weekly "Gaon Weibo Chart" by thanking his fans through his personal Weibo account!
The "Gaon Weibo Chart" ranks Korean music artists with a verified Weibo account on a real-time, weekly, and monthly basis. The ending total score depends on the number of mentions for the artist and related releases, amount of re-posts from the artist's Weibo account, and fans' contribution to the artist's "love scale."
For the week of March 30th to April 5th, Yonghwa maxed out at a score of 100 to grab first place for the 20th straight week since November 17th, 2014. Following behind include Super Junior's Kyuhyun with 91.49 points, EXO's Sehun with 88.82 points, BIGBANG's G-Dragon with 87.32 points, and EXO's Tao with 85.57 points.
In his Weibo post, Yonghwa wrote, "Weibo #1 for the 20th week~~! Thank you!!! Everyone will come see me in Beijing, right~~? I miss everyone!"
Yonghwa has been active with his Weibo account, interacting with Singaporean singer JJ Lin and posting updates from his filming for Running Man.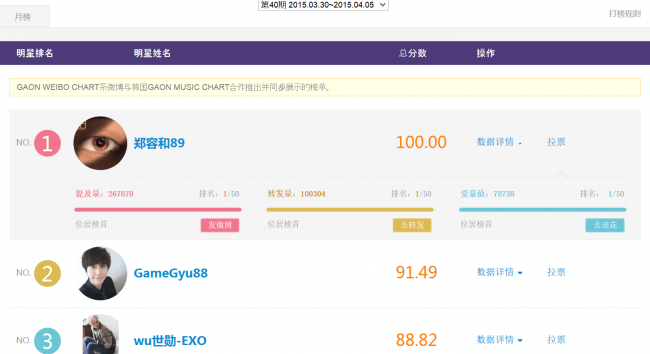 Source: Gaon Weibo Chart
Share This Post