Comedian Hwang Hyun Hee blasts Sam Hammington for calling SBS's blackface skit "pathetic"
Comedian Hwang Hyun Hee blasted Sam Hammington on Facebook, criticizing Sam's word choice in describing Hong Hyun Hee's blackface skit as "pathetic".
SBS's comedy skit show, People Looking for a Laugh, has been facing international criticism since comedienne Hong Hyun Hee used blackface in a recent skit. Her entire ensemble was blatantly racist, as her whole face painted dark brown, her lips were overdrawn, and her character wore stereotypically "primitive" clothing.
Soon, news sources all over the world reported on the skit and SBS was forced to issue an official apology for not reviewing the video before broadcasting it on national television and uploading it online.
Television personality and comedian Sam Hammington, who was also outraged by the skit, took to Facebook to publicly criticize SBS and Hong Hyun Hee, where he described their use of blackface as "pathetic." Sam also expressed that he felt embarrassed by the skit as a former comedian.
Sam's Facebook post, however, didn't sit well with comedian Hwang Hyun Hee, who also turned to Facebook to publicly criticize Sam for his word choice. The post has since been deleted.
"Sam hyung… I was thinking of privately messaging you, but your verbiage was wrong so I'm going to post this publicly…
Your hasty generalization of a simple costume promoting the derogation of Africans can also be interpreted like this: the characters Younggoo and Maenggoo (characters from children's comedy show with lower-than-average IQ) can be interpreted as offensive to autistic children, and a long time ago, there was a comedy skit called 시커먼스 (rough translation: Blackies) that received a lot of love for a long time. Would that also be considered derogatory to Africans? If that were the case, then your show 'The Return of Superman' can be interpreted as a program that gives financially struggling parents a sense of comparative deprivation, because they can't provide their children with the things shown in the program, such as visiting nice places and eating delicious foods.. But that's not the show's intention, and nor is it yours. I don't think "pathetic" is the right way to describe it."

— Hwang Hyun Hee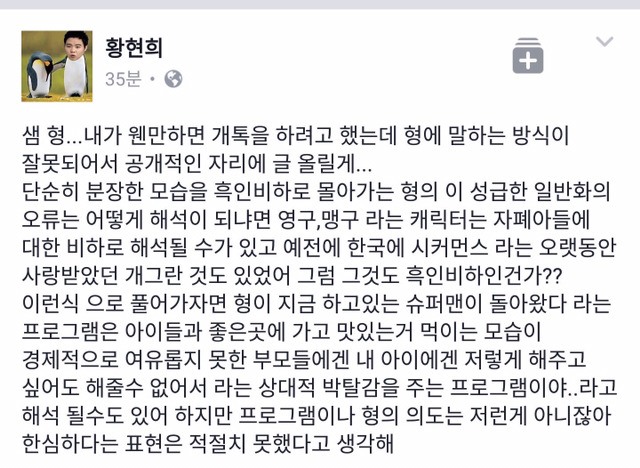 Source: MBN
Share This Post