Cube Entertainment records a loss of 5.8 billion won for the first half of 2015
Surprisingly, Cube Entertainment has been reported to have gone into deficit as the company records its earnings and profits for the first quarter.
On September 18th, Korean news portal Kyungjae Today reported that the company posted a deficit of 5.8 billion won on the 17th, or $4,859,878 USD.
Cube Entertainment records their sales with 8.67 billion won, or $7,264,679 USD, an operating profit of 360 million won, $301,647 USD, and a net profit of 765 million won, or $641,001 USD.
An official from the agency explained the net loss, saying, "It is because when we were acquiring a company, the cost of the acquisition was simply categorized as cost, in the first half of the year we were able to show a margin of 2.3 billion won but after the second acquisition, the margin increased to 3.5 billion."
Discussing the agency's net profit was a group of netizens through online community board Pann, the netizen titling the post "The reason for Cube's deficit."
Find out what Netizens had to say about this article below!
The netizen writes, "Cube is in deficit for 5.8 billion won!! The reason is because of CLC. They released three albums with no results," and continues to list the activities for Cube Entertainment artists:
Actvities
BTOB (June ~ July)
BEAST (July ~ August)
Apink (July ~ August)
Hyuna (August ~ September)
Noh Ji Hoon (September ~ October)
4MINUTE (October ~ November)
BTOB (October ~ November)
Broadcast
CLC  Real Men
Concert (Tour)
BEAST, BTOB Asia Tour (November)
"The agency singers eventually end up making all the money for them to eat up…" completes the netizen.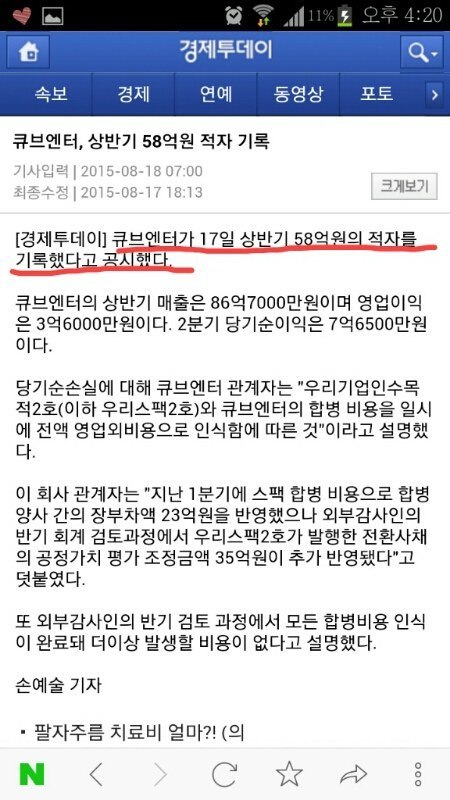 However, upon finding the article mentioned above, the netizen edits their post and says, "CUBE acquired another company and that hit them pretty hard so they barely got CLC running but CLC went no where."
---
NETIZEN REACTIONS
Koreaboo has collected reactions from Netizens who commented on the original article from our Korean source. The below comments are the most popular comments at the time of this article being published.
---
[+165, -7] I don't know what the circumstances are with the other groups, but BTOB's Yuk Sungjae has 'We Got Married' + 'Inkigayo' MC + starring in a mini-drama + 7th mini-album promotions + Asia Tour + other various events.. I understand it's good to row the boat while the water is flowing, but Cube is getting blind with greed.. I wish they thought about their artist's health and working in a smarter way
[+113, -2] Cube fans need to understand why they're in deficit. The main reason why is because they experienced unexpected loss through a merger. Plus, pushing out CLC with 2~3 albums which didn't do well.. 
[+107, -4] They're really bad at operating managementㅋㅋㅋㅋㅋㅋㅋ Cube should genuinely reform from within otherwise it'll be hopeless if the company continues without any kind of change
Source: Kyungjae Today and Pann
Comments: Pann
Share This Post