Dal Shabet volunteers with Goodwill alongside workers with disabilities
On November 14th, members of Happy Face Entertainment girl group Dal Shabet volunteered at a Goodwill store in Seoul to help out the less fortunate.
It may be getting cold this time of year in Seoul, but Dal Shabet warmed our hearts with their act of kindness! Despite their busy schedules, the girls found some time to volunteer with a Goodwill store in the Songpa-gu district of Seoul. The store, which sells donated goods, was opened to give employment opportunities to workers with disabilities.
Members Serri, Jiyul, Woohee, Ga Eun, and Subin helped sort items in the store, which included goods such as books, clothing, and household goods. In addition, the girls also performed a variety of other tasks throughout the day, including organizing the displays and working at the cash register.
In addition to the volunteer work, Dal Shabet also presented autographs as gifts to customers who purchased goods at the store. The idols had an enjoyable experience working at the Goodwill and stated that they would want to come and volunteer again in the future. The members of Dal Shabet wore bright smiles all day long and said that they were very impressed by the Goodwill Store for providing an opportunity for employment to workers with disabilities. The girls also posed for a group picture of all the workers as well.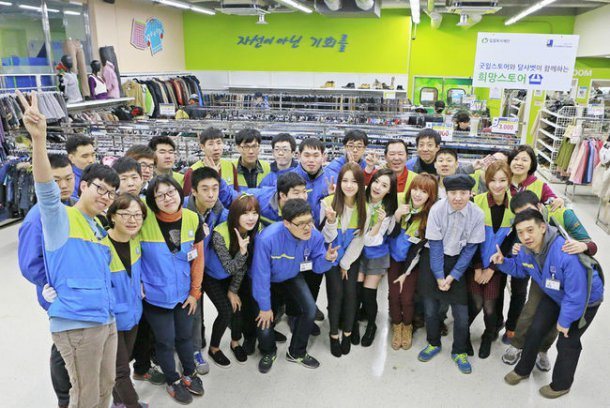 Source: Osen
Share This Post