Dance sports player Ahn Hye Sang marries to rocker Kim Kyung Ho's manager
Dance sports player Ahn Hye Sang,who featured on Mnet's Dancing 9 and MBC's Dancing with the Star 3 with Korean rock singer Kim Kyung Ho, recently married the rocker's manager on November 29th.
Kim Kyung Ho's manager Nam Kyung Pil talked about his marriage with a dance sports player Ahn Hye Sang, who is also under the same agency as the rocker, Production LeeHwang. She has become known for having participated in MBC's Dancing with the Star,both Season 1 and 3, and was also featured on Mnet Dancing 9 Season 2.
The manager first said, "Kim Kyung Ho told me 'I was the one who danced but you are the one who takes the trophy.'"
He added, "I got to know her while working on MBC Dancing with the Star 3, and it is true that I used to send her home after shooting, but we did not start dating at that time. This year, all of a sudden, we happened to begin our relationship and it ended up with the marriage."
"I fell in love with every part of my bride Ahn Hye Sang. She was always nice to elders. I could see that when we both had a meeting with our families. Also, even though she is still young, she said she would like to live with my parents. When I heard that, a thought came up to my mind. 'This lady is just perfect for me.'"
"Hye Sang is planning to get busy with her work next year, so we want to have a baby in about three or four years. For now, we just want to enjoy our honeymoon."
Ahn Hye Sang and Nam Kyung Pil had their wedding ceremony on November 29th. The wedding did not have an officiant, and Kim Kyung Ho sang for their wedding to congratulate the newly weds.
**Editor's Note: Featured photo and caps below are of Kim Kyung Ho and Ahn Hye Sang, as there are no photos of the newly weds.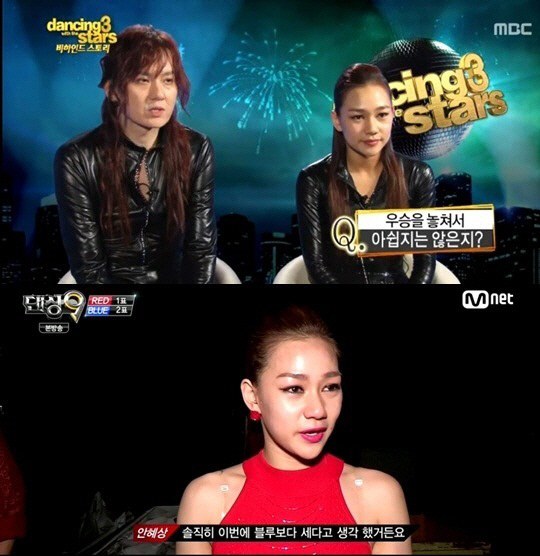 Source: DongA
Share This Post