[★TRENDING] Dispatch Refuses To Release Idol Dating News, Here's Why
Every year on January 1st, Korean media outlet Dispatch releases breaking news about a secret celebrity couple to start the new year. 
In the past, Dispatch has broken news about couples such as EXID's Hani and JYJ's Junsu, Lee Seung Gi and Yoona, and Rain and Kim Tae Hee. While there are many news outlets in Korea, Dispatch as proven time and time again to be the leaders in exclusive dating news.
While Dispatch hasn't failed to deliver shocking news at the same time year after year, eagerly waiting fans were disappointed when nothing was released. In fact, fans even reached out to Dispatch in order to inquire about the lack of news.
On a recent post on Dispatch's official Facebook page, a reader inquired about Dispatch's annual breaking news. While they did not release an article addressing the lack of news, Dispatch did write an official statement in reply to the question.
The country is in the middle of impeachment. The attention of Korea must be on President Park Geun Hye and Choi Soon Sil, their parties and the traitors of the country. Our country's politics need to be the center of focus more than ever.

That is why on 2017 January 1st we took a break.

When the day comes that it's okay for Dispatch's dating news to take over the internet, we will be back.

Happy New Year.

-From Dispatch's editorial office-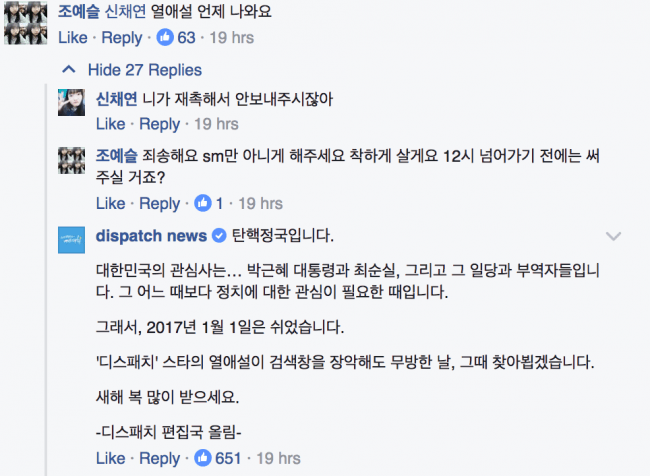 Share This Post