Entertainment Experts Predicted That Girl's Generations Members Had No Future As Solo Artists
A number of entertainment experts have released their own evaluations for the members of Girls' Generation's members success after a possible disbandment. 
A post on an online community compiled the comments made by various entertainment experts ranging from variety entertainers, singer, actor and more. The panel did not only discuss the chances f the members to make it on their own after their possible disbandment, but also made a list of their flaws and weaknesses as singers, actresses or entertainers.
Yoona was the member selected as the one with the highest chances of success, but was criticised for her mediocre acting skill. It was pointed out that although she was good in her recent projcet, You Are My Destiny, she has not improved since. Taeyeon, on the other hand, came second, but was only commended for her strongest point in skills so far which was singing.
Sooyoung came in third, but was only praised for her slim figure and height, followed by Yuri who was described for her weakness on looking a bit awkward in every activity she does. Tiffany, Sunny, Seohyun, Jessica and Hyoyeon were at the bottom of the list and were deemed less likely to succeed in the business after Girls' Generation.
The list however seems very outdated as it still includes Jessica who left Girl's Generations in 2014. The critique came from various experts in the field ranging from producers at KBS, SBS and tvN as well as actors, singers and musical actors.
It's interesting how none of these prediction have come to fruit and all the members of Girl's Generations and former member Jessica have proven all the experts wrong with their amazing success in multiple ventures.
For example, Yoona despite their score of 7.6 in the field of acting, became a massively successful actress and continue to star in many dramas both in Korea and China. Hyoyeon who received a score of 6.0 in the field of singer recently debuted as a solo artist with "Mystery" and enjoyed great success.
This goes to show that even the best in the field cannot always be 100% accurate with their predictions.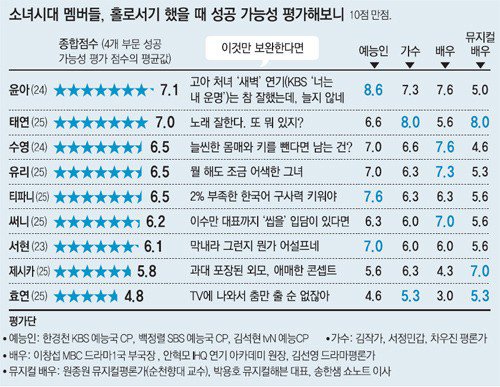 Ranking
1) Yoona (7.1)
Variety (8.6) Singer (7.3) Actor (7.6) Musical actor (5.0)
Weakness: She was good in 'You Are My Destiny', but hasn't improved since.
2) Taeyeon (7.0)
Variety (6.6) Singer (8.0) Actor (5.6) Musical actor (8.0)
Weakness: She can sing, but what else can she do?
3) Sooyoung (6.5)
Variety (7.0) Singer (6.6) Actor (7.6) Musical actor (4.6)
Weakness: Aside from her slim body and height what else does she have?
4) Yuri (6.5)
Variety (7.0) Singer (6.3) Actor (7.3) Musical actor (5.3)
Weakness: She's awkward in everything she does.
5) Tiffany (6.5)
Variety (7.6) Singer (6.3) Actor (6.3) Musical actor (5.3)
Weakness: Her Korean is 2% lacking, she needs to improve it.
6) Sunny (6.2)
Variety (6.3) Singer (6.0) Actor (7.0) Musical actor (5.6)
Weakness: If only her speaking was witty enough to "badmouth" Lee Soo Man.
7) Seohyun (6.1)
Variety (7.0) Singer (6.0) Actor (6.0) Musical actor (5.6)
Weakness: She's unnatural, possibly because she's the Maknae.
8) Jessica (5.8)
Variety (5.6) Singer (6.3) Actor (4.3) Musical actor (7.0)
Weakness: Overrated looks, her concept isn't clear.
9) Hyoyeon (4.8)
Variety (4.6) Singer (5.3) Actor (3.0) Musical actor (5.3)
Weakness: All she does is dance.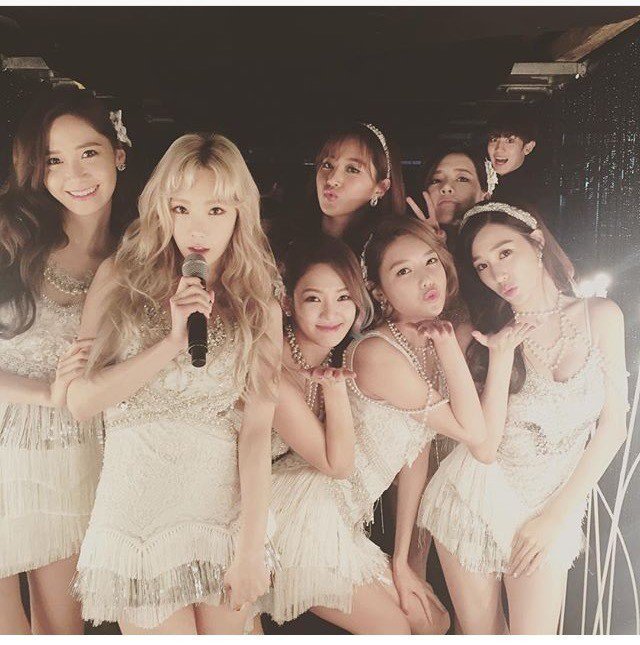 Source: Instiz
Share This Post