Everyone's Talking About This Obscure Indie Artist Beating EXO-CBX and BIGBANG In The Charts
This mysterious song surpassed TWICE, BIGBANG and EXO-CBS during the middle of the night.
An Indie artist that goes by the name Nilo has hit no. 1 on the Melon chart with his song "Pass By".
What's strange about its rank in the Melon chart, however, is that it reached the top of the chart in the middle of the night (between 1 am to 4 am).
This time period is famous for being the time when fans stream their favorite idol's music throughout the night to put them at the top of the chart.
The song surpassed TWICE's "What is Love?" as well as EXO-CBX's "Blooming Day" and BIGBANG's "Flower Road" among many others, when the song was released back in October of last year.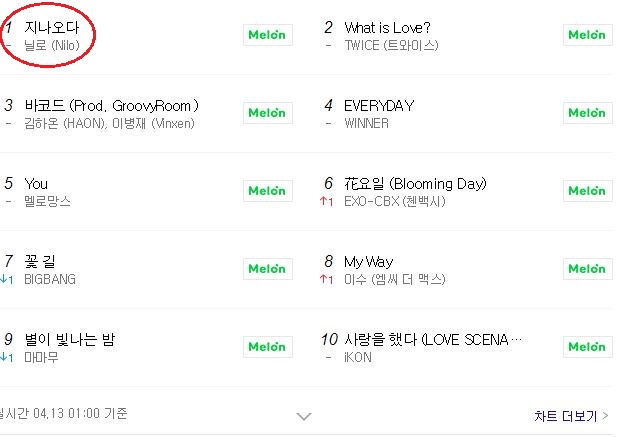 Nilo is managed by a viral marketing company called Limez Entertainment and netizens have been getting suspicious as Jang Deok Cheol and 40, other singers managed by Limez Entertainment, have also experienced similar phenomena.
Limez Entertainment had also previously revealed that as a result of experiments, their singer Banhana's song which was released 4 years earlier had placed no. 74 on the Melon chart.
Moreover, netizens have been pointing out two suspicious posts on the Radio Star website. One of them requests "the combo of the legendary chart climbers Jang Deok Cheol and Nilo" to appear on the show. This is significant because the request was posted before Nilo even hit no.1 on the Melon chart.
The other post is titled "Jang Deok Cheol, Milo and Lee Juno" who are all singers managed by Limez Entertainment.
However, the agency has denied using any expedient methods or manipulating the charts, and have stated that their company specializes in viral marketing so they possess effective know-how on exposure based on SNS.
"Nilo's agency is an SNS marketing company so they know their exact target. They usually upload contents such as videos during the late night which is why it is reflected in the charts during the night. Even for Jang Deok Cheol, the agency had know-how on how to target the peak time for user access through various tests." ㅡ Limez Entertainment's Promotion Agency
Netizens have been taking the situation more critically due to the argument that good songs are not being promoted through word of mouth but rather through the agency's "know-how" while others have been doubting the credibility of the "know-how".
"At this rate, they might even get the 2018 Melon award"
"Thorough investigation needs to take place in regard to this know-how. How will people ever believe these charts anymore? Rookies will always be doubted if this issue is not resolved."
"The song isn't even that good how could it be popular"
"This is not a matter of marketing, it's 100% manipulationㅋ Otherwise this phenomenon wouldn't be possible"
"Do they think he could continue promotions like this? They've made all the domestic fandoms their enemiesㅋ"
"When I see these issues, it makes me think that people who live honestly are stupidㅋㅋ"
Share This Post