Here's The Full Story Behind Cakeshop Club Owner's Beef with Jay Park
Samuel Swanson, the Co-Owner and Director of Itaewon club Cakeshop, accused Jay Park of cultural appropriation in an interview about Seoul's underground music scene. 
The short documentary where Samuel Swanson talks about Jay Park is centered around Seoul's electronic music scene. In the video, multiple people involved in the underground or electronic music scene are heard talking about the current state of music in Korea. Artists such as Smells, June One, Soolee, and Akimbo are some of those who share their thoughts about the evolution and current state of music in Korea.
Cakeshop is a popular club in the international neighborhood of Itaewon and also one of the hottest tourist spots in Seoul. They describe themselves as an 'underground basement club through & through' and play music that ranges from Future House, UK Bass, Garage, Disco, Hip-Hop, R&B and other 'underground genres'.
The video is an excellent piece that looks to educate and share another side of Korea's music scene to the rest of the world. However, Samuel Swanson quickly turns it into an attack against K-Pop and specifically, Jay Park. The 'call-out' comes after musician and beatmaker, JUNE One, begins talking about the pop scene in relation to the underground scene in Seoul.
I would say it's not about how many people will come into clubs. I think it's how much impact it would give to the whole scene. Its more about who comes to the club or what happens after this party.

The pop scene in Korea has been changing a little by little from this kind of movement and more and more pop related people artists, you know like Pop Stars, will be more related to underground culture which is, I think, in a sense it's good, and also, in other hands, it could be a bad thing because it could mess up the scene.

— JUNE One
JUNE One's comment about the pop scene is a valid point that many share, including Korean hip-hop artists and K-Pop stars. From the controversial label of "idol-rapper" to shows like "Show Me The Money", discussions about idols riding waves without true appreciation for the genre or music drives heated discussions amongst fans and artists.
However, in the next scene, Samuel seems to take the discussion into an extremely ignorant frame of view, accusing Jay Park specifically cultural appropriation.
"For instance, you can see a pop star in a club, in an underground club, for sure, and if somebody sees it and writes about it, this is like the most internet savvy population on Earth, and they write about it, once it happens, the club gets hot, and it's not a bad thing, it's kind of good, it gets people that might not be into clubs there.

So you can see how it crosses over in a good way as well. But it can be bad. For example, I'm going to call it out right now, I don't care. But Jay Park jumped on a Boiler Room over it, Jay Park is a Korean Pop Star. He jumped on a Boiler Room at Cakeshop. It's cultural appropriation, he's never played in Cakeshop, he never comes. He's totally trying to appropriate things that someone else has created and use it for his own benefit.

So it's very dangerous. K-Pop in that sense, and people [that are like] oh I don't like [K-Pop], fuck K-Pop but actually it could be really destructive you know, forced too, we don't have the same interests, completely different interests.

You know, when I was talking about like the counter to the Gangnam thing, it is also the counter to the K-Pop thing which is a lot of the good producers they kind of sell out to K-Pop. And they don't even try to find their own voice. So I feel like if we can create a scene, that's like sustainable, where people can make a living and then they don't have to sell out to K-Pop. Because that's whats happening all the time."

— Samuel Swanson (Co-Founder, Cakeshop)
The line was seen by Jay Park, who posted a response on Twitter defending himself and calling out Samuel for the inaccuracies in his statement. Jay Park reveals that he has been to Cake Shop multiple times and even performed alongside friends such as Dumbfoundead, Hoody, Ugly Duck and Jenny From The Shop. This contradicts Samuel's statement where he says, "He's never played in Cakeshop, he never comes."
It seems highly unlikely that the Co-Founder, Director and "Curator" of Cake Shop would not know that Jay Park has been to his venue in the past. In September 2016 when Korean-American rapper dumbfoundead performed at Cake Shop, Jay can be seen standing behind the DJ booth alongside dumbfoundead.
Jay Park was also at Cake Shop, as Samuel himself states in the interview, for world famous underground hip-hop brand Boiler Room and their namesake event hosted in August 2016. In the interview quoted above, Samuel claims that Jay Park "jumped on Boiler Room at Cakeshop. It's cultural appropriation, he's never played in Cakeshop, he never comes."
Koreaboo uncovered the full video where Jay Park and Ugly Duck are seen performing their song, "Put 'Em Up". The DJ who's set it is at the time of their performance is Jenny From The Shop (Jenny FTS).
The video shows that Jay Park did not 'jump' on Boiler Room but was clearly invited to perform by Jenny FTS. The video backs Jay Park's claims that he was asked by Ugly Duck, who was asked by Jenny FTS, to perform during her set as a favor. 
https://www.youtube.com/watch?v=doYP4SJ-zVs
Jenny's set starts 2 hours 50 minutes into the event (2:50:00). She starts playing Jay Park's song "Put Em Up" 25 minutes into her set (3:15:00). Jenny starts looking past the crowd behind her for the MC and motions him to come to the DJ booth. What appears to be either a friend or staff for the event informs Jenny that Jay Park is coming to the booth 1 minute 20 seconds later (3:16:21)
Jenny stops the beat and the MC announces Jay Park's at the event and motions him towards the booth another 1 minute later (3:17:26). The MC and Jenny call him towards the DJ booth and they play the beat to "Put Em Up" again. Jay Park starts rapping standing beside Jenny the entire time.
Jay Park performs for 1 minute and 31 seconds (3:18:57) and hands the mic to Ugly Duck who continues the song. Ugly Duck finishes 1 minute and 13 seconds later (3:20:10). Ugly Duck and Jay Park pass the mic back and forth for another 37 seconds (3:20:47) until the song ends.
Jenny, Jay and UD all hug and Jay passes the mic back to the MC who shouts them out saying, "AOMG". He gives props to Ugly Duck (3:20:50) and Jay Park disappears from the stage.
In his response to the allegations, Jay exposes Samuel's past actions and how he 'got drunk and threw a drink on me'. This incident reveals far more to Samuel's dislike of Jay Park than Samuel let on in the seemingly misleading interview.
This incident was confirmed by fellow AOMG members, Hoody Kim and Ugly Duck.
Hoody Kim, one of the newest additions to AOMG's family uploaded a long message to Instagram and seemed to confirm Jay Park's statement about the drink being thrown on him. In the message, Hoody expresses her extreme disappointed and anger about the entire situation.
Read the translated message by Hoody below:
"Cakeshop was a venue I went to frequently every week since I started [doing] music. The DJs and the parties they hosted always gave me a good vibe. I met countless talented musicians from both in and outside of Korea and many awesome projects came to life at this place. Looking back through my music career, Cakeshop was a place that frequently appeared as the setting of many of my memories as a very fond place.

But last summer an unfortunate event happened there that sorely disappointed me. I was not the victim but the victim was someone close to me, someone I follow and respect and that made me furious. But I hoped that the incomprehensible, rude action of the culprit was the result of one too many drinks and that the one responsible regret his actions sorely. It had to be a mistake, who could do such a thing with a clear head?
But after seeing that video I know that the action came from deep inside of his heart. He is so sorely wrong in his thoughts and he is so trapped within his own thoughts that the the things he was saying in the video was so twisted. He never even apologized for what he did when he was clearly in the wrong. I am so disappointed, every bit of respect and fondness that I held for Cake Shop just vanished."

— Hoody Kim
https://www.instagram.com/p/BOjQ672jlUi/
Ugly Duck,who is also a regular performer and act at Cake Shop also posted to Instagram exposing the truth behind Samuel's attack on Jay Park. He revealed that Jay Park and others around him at the time let the incident slide to give Samuel the benefit of the doubt.
Ugly Duck's translated statement is below:
You threw your drink at us while we were performing when we were invited to do a show. And you laughed. All my friends saw it but you didn't apologize, even indirectly. I let it go thinking that you were drunk and out of consideration for everyone that was around us. You are out of your mind…I hope you make a lot of money~"
— Ugly Duck
Samuel continues showing his blatant ignorance by completely disregarding K-Pop and the influence it's had on South Korea as a whole. He continues on to make an absurd statement that producers are selling out by working with K-Pop acts or creating music for K-Pop. It's this form of elitism and "hipster" narrative that damages the music industry as a whole and promotes negativity amongst artists.
While K-Pop might not be for everyone, the impact it has had on spreading Korean culture and music has been profound. Tourism has thrived with the massive spread of K-Pop across the world. Hundreds of millions of people around the world have been exposed to Korean artists through the power of K-Pop and it hasn't stopped at just pop music.
Indie musicians, rappers, and DJs have benefited from the massive exposure that Korean music has received due to K-Pop artists and idols. Artists who in the past would have never gotten the opportunity to receive exposure in the US are being noticed by mainstream media.
Korean artists are now being invited to SXSW to perform on a global stage. They're going viral and being listened to by teenagers and adults across the world. People are learning Korean as a language specifically to listen to the music. This movement has been pushed heavily by the global exposure to Korea through K-Pop.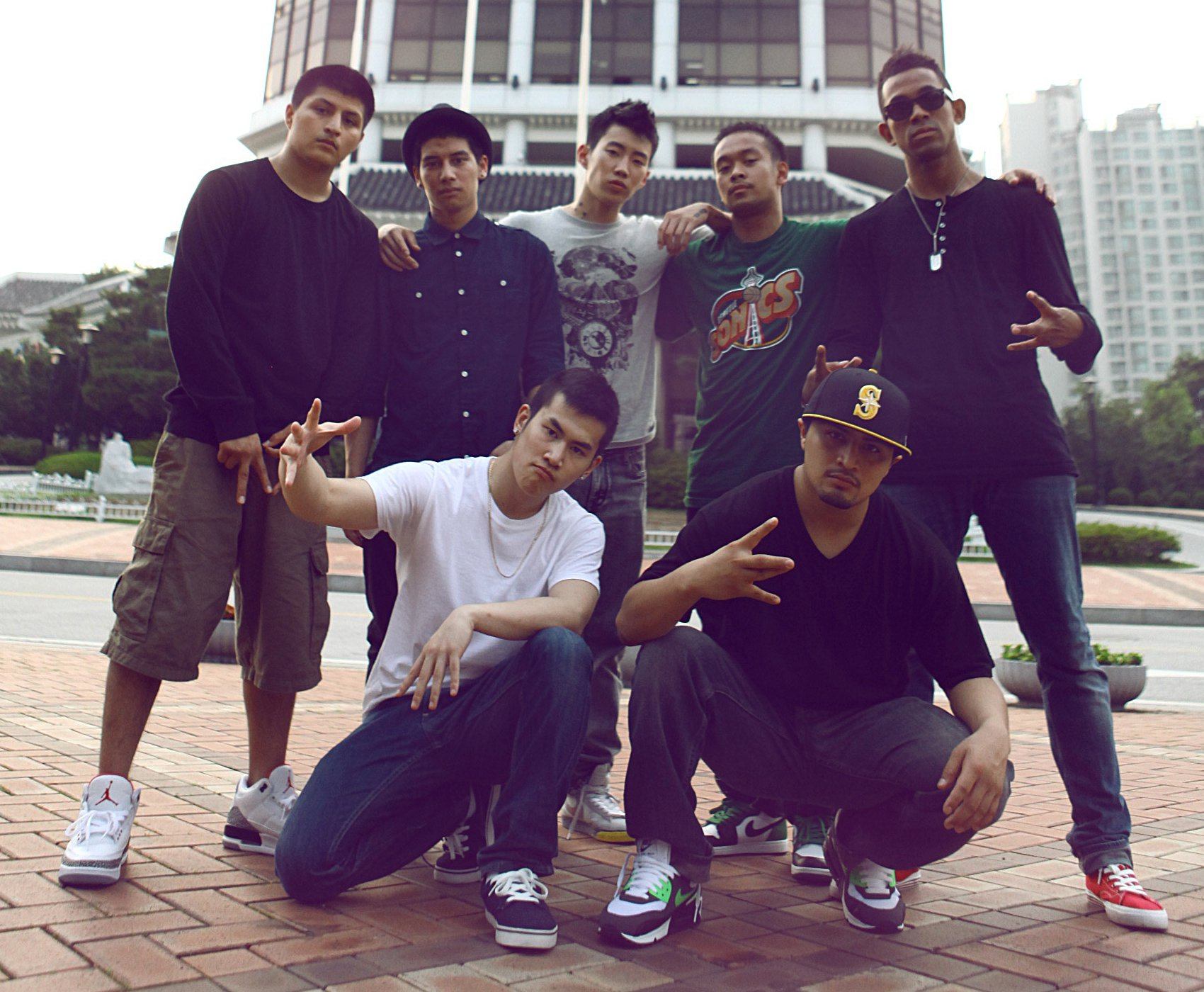 K-Pop fans are not just listening to music made by idols. They're expanding their tastes just like any other fan of any other genre of music. They may start as just fans of boybands or girl groups but it's rare to find a K-Pop fan who hasn't expanded past their initial one or two pop songs.
In the interview, Samuel states, "You can almost see the change monthly, people sometimes [ask] what kind of music are people into [at Cakeshop]. I'm like, I can tell you what they're into right now but it'll be totally different in like 3 months."

In that sense, there is no culture to appropriate at Cakeshop. It's a constantly evolving hybrid of different genres and styles.
This is the exact definition of Jay Park's music and the culture he has created at his label, AOMG. In the most ironic sense, Samuel has picked the absolute worst artist to chose as someone appropriating 'Cake Shop culture'.
Jay Park has exposed K-Pop fans to artists like Ugly Duck, Hoody, DJ Wegun, DJ Pumpkin, and Elo who might not otherwise have been exposed to the millions of followers Jay Park has around the world.
This doesn't include the extremely talented producers and artists like Gray and Cha Cha Malone, who are both under the AOMG label. The songs he releases under his label can easily be described as a constantly changing and evolving style of music. From hip-hop to dirty southern rap to R&B to electronic music, Jay Park experiments with his music often and is known for doing so.
Samuel also expresses his opinion that producers are sell-outs for working with K-Pop:
"You know, when I was talking about like the counter to the Gangnam thing, it is also the counter to the K-Pop thing which is a lot of the good producers they kind of sell out to K-Pop. And they don't even try to find their own voice. So I feel like if we can create a scene, that's like sustainable, where people can make a living and then they don't have to sell out to K-Pop. Because that's whats happening all the time."
— Samuel Swanson
This style of thinking seems to be common amongst those who look for flaws in what appears to them as 'mainstream'. It's the same 'attack-the-successful' mentality that promotes only negativity and brings down those looking for success in their own way. There are extremely successful producers creating amazing music in K-Pop for a worldwide audience. They're able to expose their music and brand to millions of fans and the word "sell-out" only diminishes their hard work.
There are extremely talented producers creating songs for K-Pop that are doing what they love and creating music that they enjoy. Rookie group K.A.R.D's track, "Oh NaNa" was produced by three close friends and extremely talented artists, Bigtone, Nassun and EJ Show of ZOOBEATER SOUNDS. Producer Chancellor is an extremely talented musician who has worked on some of the biggest hits in K-Pop and is considered a well-respected musician in the industry.
Jay Park even shares the same philosophy when it comes to his artists under AOMG. In a recent interview with i-D Vice, he spoke on the topic of maintaining a strong creative environment and giving freedom to all those under his label.
"Freedom! I want to be able to bring what they have in their minds to life as opposed to what other labels do — they have a certain vision, a certain path, and artists may not be able to do what they want. They might be doing music and shows but they might be miserable because it's not what they envisioned. I want all my artists to be successful, even if they're more successful than me. I want their contracts to be good, I want their families to be happy. I don't look at them as people who make money for a company, it's a brotherhood."
— Jay Park
It's no wonder Jay Park defends himself in his Instagram post on the statements made against him by Samuel. They seem to come from nowhere and do not accurately represent the philosophies Jay holds and consistently promotes.
This is also not the first time that Jay has gone on Twitter to defend himself against false accusations. In 2015, Koreaboo made an inexcusable mistake when a former employee used a photo of Jay Park and dok2 together in relation to a massive drug scandal. Jay called Koreaboo out for this incident to publically to clear his name.

In an interview while being appointed the Master of Ceremonies for the 10th Anniversary Red Bull BC One World Final in Seoul, Jay continued sharing his philosophies on how he makes music and the type of artist he is. He is also the ambassador to R-16 Korea, one of the biggest b-boy events in the world.
"As far as I go, I don't try to bridge anything. I just do what I feel is right.  I grew up in the States listening to Hip Hop and I still mostly listen to American music. But I am based here in Korea, so it comes naturally to me."
— Jay Park
Just recently, Jay Park released a track with Seattle-based rapper, Raz Simone. Raz visited Seoul in June 2016 and spent almost all his time with AOMG. Jay also released music with Far East Movement, arguably the most global Asian-American acts in the world who hold strong roots within the hip-hop and electronic music scene.
The biggest question that comes from Samuel's accusation that Jay Park is appropriating culture is: which culture? Is he accusing Jay Park of appropriating black culture? "EDM Culture"? "Cake Shop Culture"?
"When I grew up, no one told me what I was supposed to listen to. On the radio, Miami bass was always the thing for me, and heavy metal – that was big in Florida too. My parents listened to country. Rap was on the radio. I grew up and I loved music, I didn't think: 'Oh, I'm white, I've got to play a guitar.' I never had a guitar."

— Diplo on Major Lazer being accused of cultural appropriation.
Samuel reveals in the interview that he believes strongly that Cakeshop is the "cool" place to be. He contradicts himself when accusing Jay Park of appropriating culture when he reveals that "there's so many different cultures, everything is changing everyday, so it's really hard to have a very constant taste."
If this is the case, there is no culture to appropriate. Unless, "cool" is a minority culture that Jay Park has stolen without understanding the significance of what it to be cool. 
The full quote is below:
"Here in Seoul, everything's mixed up, there's so many different cultures, everything is changing everyday, so it's really hard to have a very constant taste. Like, "I like Techno only" or "I like hip-hop only", you know that's a really rare case. Everything's mixed up, so the big thing that should happen to lead a culture is to have cool people or people with taste leading other people and Cakeshop was that place, where people with tastes will come and lead other people."

— Samuel Swanson.
This is also not the first time that Samuel has been caught starting beef with a rapper in Korea. In 2010, he was called out by Black Ilumin aka Dbstk Crzzy for allegedly making threats against the rapper. In a video released by Black Illumin titled, "The Real Potty Mouth", a play on words for Samuel's former production company, "Potty Mouth Productions", the rapper accuses Samuel of threatening him.
"Samuel Swanson, the dude who runs Potty Mouth Productions and MULTI, decided to threaten me with text messages like: "Watch your words…I know many people and I can shut you down from performing in Seoul…"
— Black Ilumin aka Dbstk Crzzy
Since the post by Jay Park, childhood friend and AOMG producer Cha Cha Malone has also chimed in. Cha Cha joins fellow AOMG members Hoody and Ugly Duck, whose comments were translated above.
This Cakeshop Samuel Swanson goofball needs to take a seat…

— CHACHA the BEAT BOY (@CHACHAAOM) December 28, 2016
AOMG members Gray, Elo and DJ Pumpking have also made comments on the issue by leaving messages on Instagram.


Artist Crush left strong words for Samuel on Ugly Duck's post with a simple message that reads, "Shall we kill him?" The post reads as an obvious joke, knowing Crush' personality and should not be taken as a death threat.

Christina Paik, a fashion photographer who has worked with Jay Park in the past and is a close friend of his also shared her thoughts on the comments made by Samuel.
Lol love u @JAYBUMAOM ~ speak the damn truth pic.twitter.com/ddl3nSRvBc

— CHRISTINA PAIK (@christinapaik) December 28, 2016
People in Seoul be acting way too extra cuz their ego too big and feeling themselves too much lol fuck that

— CHRISTINA PAIK (@christinapaik) December 28, 2016
On the other side, people who appeared to be affiliated with Cakeshop also came to the defense of the venue. One Instagram user with the name "@f___up" commented on Hoody Kim's post, accusing her of being "pulled into the kpop machine". Hoody fired back with a response that shut that down immediately.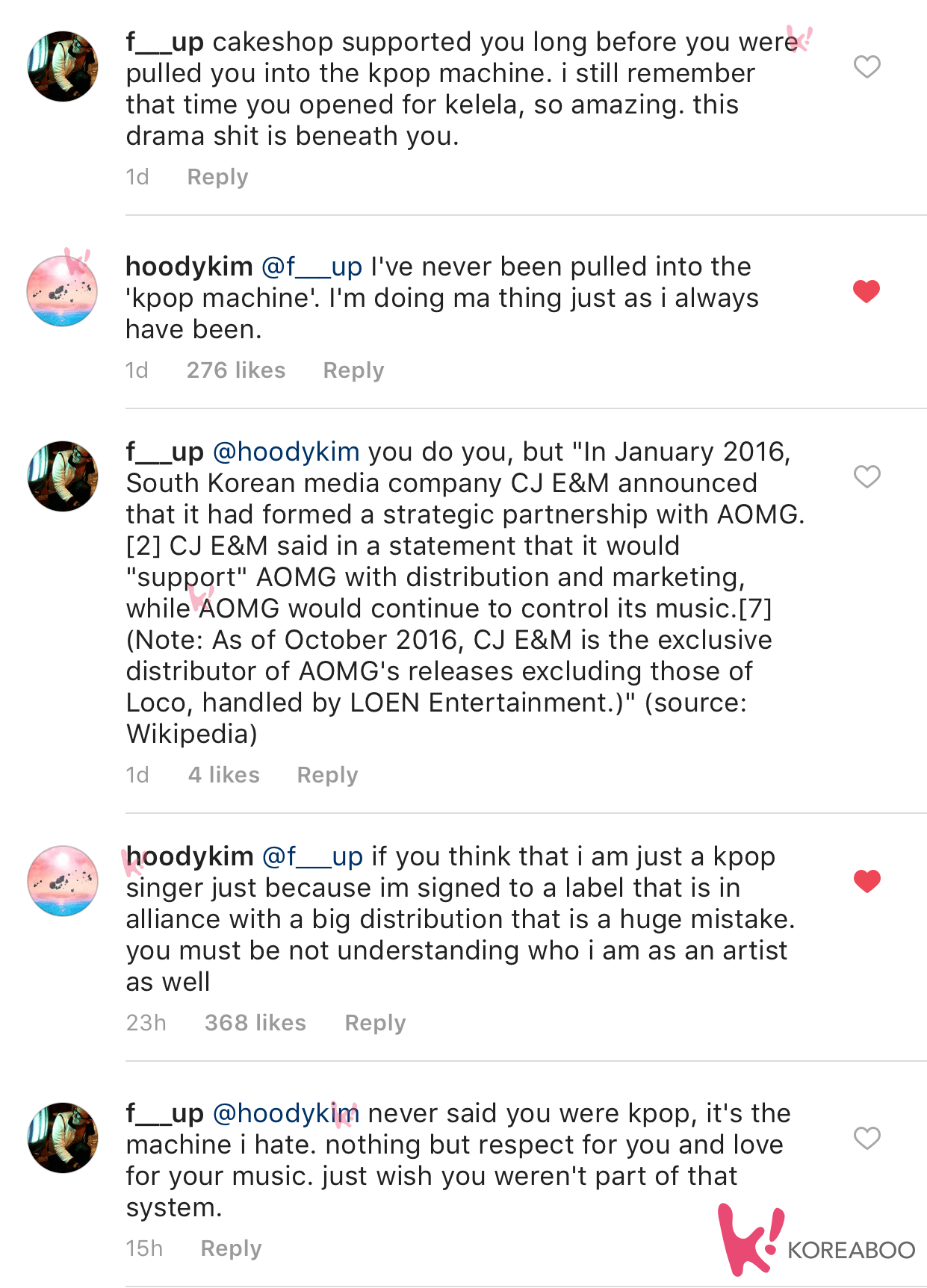 In response to this, Ugly Duck posted on Hoody's Instagram tagging "f___up" asking him, "What the hell is this who are you."
Jay Park is not the first artist who mixes K-Pop and hip-hop to perform at Cakeshop or be spotted at Cakeshop. The club seems to have been welcoming of these artists in the past, as Dean, Zico, and Crush have performed at the venue. The trio performed multiple songs together to an extremely receptive audience.
YG Entertainment artists have also been spotted at the club on numerous occasions, especially G-Dragon. Former 2NE1 members Sandara Park and CL have also been spotted at the club near the DJ booth.
Share This Post