EXO, Epik High, GOT7, and more win at "YinYueTai V-Chart Awards"
Numerous K-pop acts have made Korea proud by winning prestigious awards at the YinYueTai V-Chart Awards, including EXO, Taeyang, Epik High, GOT7, f(x), T-ARA, and Boyfriend!
Held on April 11th in Beijing, China, the awards show acknowledged the hard work and popularity of international artists, including other winning recipients Taylor Swift, Sam Smith, Jolin Tsai, Namie Amuro, AKB48, and JJ Lin.
Representing the pride of South Korea, four out of seven winning acts attended the YinYueTai V-Chart Awards to receive their trophies, namely Epik High, GOT7, T-ARA, and Boyfriend.
Epik High grabbed the "Best Performance Artist" award, GOT7 was named "Best Korean Rookie of the Year," while Boyfriend was given the "Most Potential Korean Artist" award. T-ARA was awarded with two trophies, "Most Popular Korean Artist" and "Trending Artist of the Year" for the group while Jiyeon also brought home the "Best Korean Female Artist" award after topping the charts with her "1MIN 1 SEC" solo debut. Taeyang won the "Best Korean Male Artist" award, EXO's Overdose was named as "Album of the Year in Korea," and f(x) named the "Best Korean Group."
The K-pop groups who were present at the show also took photos at the backstage and posed with their trophies, thanking their fans for their achievement.
[instagram://1VnOqaIyk_]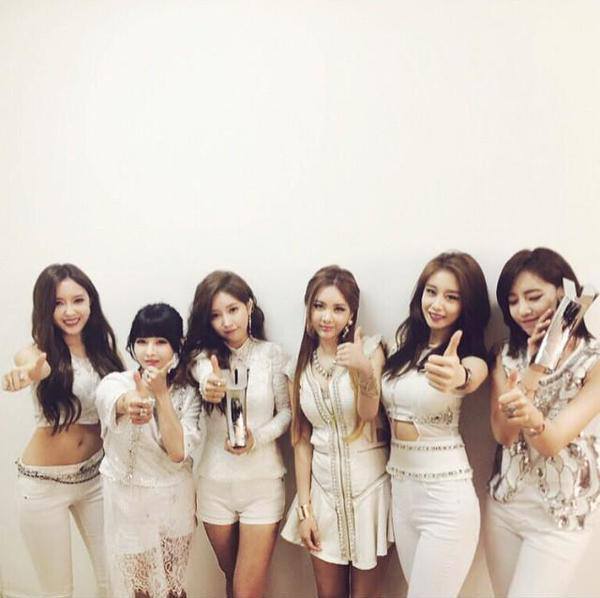 GOT7 <THE 3RD V CHART AWARD> 한국 최우수 신인상 수상 축하합니다!!GOT7 recieved The Best Korea Rookie of the Year Award at <THE 3RD V CHART AWARD> Congrats! #GOT7

Posted by GOT7 on Saturday, April 11, 2015
[B.F동현] 인위에v차트 어워즈 뜻깊은 상 감사드립니다!!!
중국팬 여러분들도 오늘 너무 수고했어요 감사해요 모두 잘자구 내일 팬싸인회에서 봐요^^ pic.twitter.com/2cPKBMbt8L

— BOYFRIEND (@G_BoyFriend) April 11, 2015
Source: YinYueTai V-Chart Awards Weibo
Share This Post