EXO's "Call Me Baby" achieves all-kill status just hours after release
Within just a few hours of its release, SM Entertainment male group EXO's new track "Call Me Baby" achieved the lucrative all-kill status, ranking #1 on all major Korean music charts. 
With all of the teasers and leaks leading up to the release of the track, EXO's "Call Me Baby" was definitely one of the most anticipated tracks released so far this year. Fans have been expressing their excitement since the group announced their comeback late last year, and so far, it seems it has been worth the wait.
In addition to topping music charts, EXO's latest track has also captured the ears and hearts of fans enough to have many fans raving about the song online. On sites such as OSEN, many fans expressed their love for the track and encouraged others to give the song a listen as well.
EXO is returning with their 2nd studio album EXODUS, which will be available in 20 different versions with 10 versions for the Korean edition and 10 versions for the Chinese edition.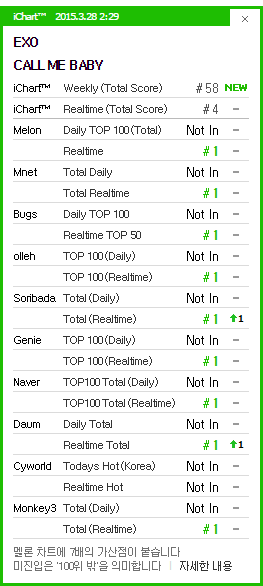 1. [+2,190, -434] Love you EXO ♥♥♥♥♥
2. [+421, -43] I like how their songs are gradually stepping away from their initial foolish sounding songs
3. [+399, -58] SM's seriously a genius…
4. [+367, -45] I'm a Big Bang fan and took a quick listen to the song and I think it sounds good. Looking forward to the performance. Let's support each other, yeah?
Source: OSEN
Share This Post