Fans in uproar as JYP Entertainment allegedly changes Tzuyu's profile birthplace to "China Taiwan"
Amidst the escalating controversy regarding TWICE Tzuyu's appearance with the Taiwanese flag on television, it seems that fans have found another point to dispute.
According to Hong Kong source Apple Daily, changes to Tzuyu's profile online seem to reflect the current tensions surrounding the politicized debate of the relationship between China and Taiwan. As reported, the profile is in its third edition.
At first, Tzuyu's nationality was listed as Taiwan. Next, Taiwan was listed as her birthplace. Now, most recently, her birthplace is listed as "China Taiwan."
This update seems consistent with JYP Entertainment's latest statement regarding the young idol's actions with a postponement on the group's Chinese activities following the trending tag "#boycottJYP" on Weibo. Furthermore, it seems noteworthy that while other members' nationalities or birthplaces are listed in English, Tzuyu's is in Chinese which has been interpreted as a signal to China.
The edits made to her profile may be seen as a move to appease Chinese netizens and broadcasting agencies but simultaneously has continued to anger various Taiwanese, Hong Kong, and Korean fans. Many commenters have expressed their sympathies for Tzuyu who, despite her young age, has been pit in a highly sensitive and political space.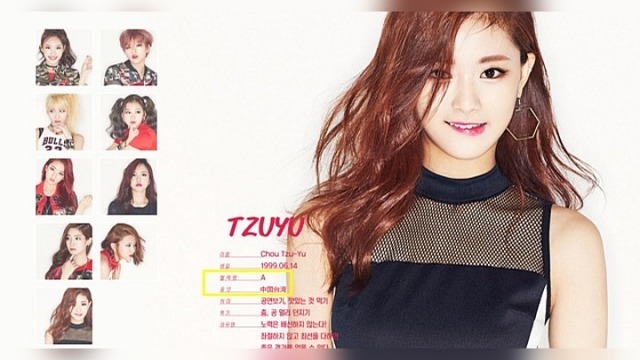 Source: Apple Daily
Share This Post