Fans Lash Out At Yang Hyun Suk After Comments Of "Finding A TWICE" On "K-Pop Star 6"
YG Entertainment founder Yang Hyun Suk recently voiced out his expectations for the next season of K-Pop Star which has, unfortunately, rebutted in angry comments by some fans.

Plans for the sixth and final season of the show has been announced and has been officially titled K-Pop Star 6: The Last Chance as it will be "the last chance" for those looking to be a K-Pop star. With heads of the agency themselves appearing as the judges of contestants (Yang Hyun Suk of YG, J.Y. Park of JYP, and Yoo Hee Yeol of Antenna Music), it became a great opportunity for youngsters to gain recognition and possibly, join either of the three agencies of the judges as the winner
Recently, Yang Hyun Suk was quoted saying about his expectations of the final season of the show, "From the beginning, our motto has always been to create global stars such as TWICE or like our agency's BIGBANG. But there isn't in Yoo Hee Yeol's agency," he jokes before adding, "I want to create a group like that."
However, fans have not reacted to Yang Hyun Suk's statement too lightly as some have taken to his public Instagram account, with some commenting about focusing on his own agency's artists instead such as 2NE1, who recently lost member Minzy. Additionally, some pointed out that the agency's promised girl group known to the public as Pink Punk has yet to debut as well and would rather YGE focuses on who they have under their label first before taking on a new group.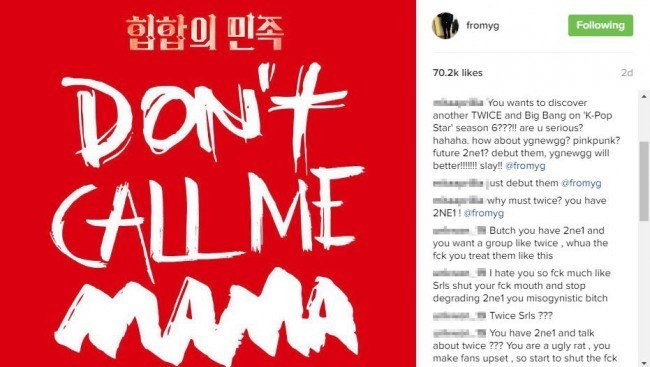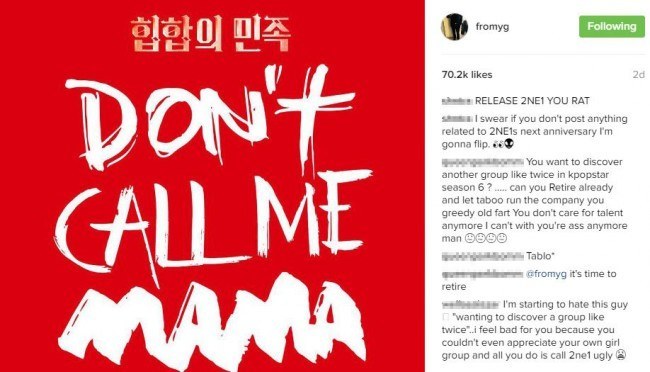 Meanwhile, K-Pop Star 6 will have different rules compared to their past five seasons with current trainees and already debuted singers welcomed to audition for the show. This was so that those who have not found success as of yet have a chance at making it this time around. In addition, all three agencies will be co-producing the winner's album. Should the winner already belong to an agency, the winner is able to return to the agency after their album release, but if they are not bound by an agency, they will have the choice of joining the agency of their choice as per past rules.
K-Pop Star 6: The Final Chance will air in November 2016.
Source: OBS
Share This Post