Fans outraged at SBS for using inappropriate photo of Tzuyu on Facebook
SBS is receiving heavy criticism for using a screen capture of TWICE' Tzuyu from her controversial apology video after the 'Taiwan Flag' scandal.
The article shared by SBS titled, "The Prestige of the #1 Searched Phrase" has since been deleted but reposted with a more appropriate photo of Tzuyu. However, fans are still upset with SBS and have been leaving comments on the new posts demanding an apology.
SBS' original post revealed that the article was about how Tzuyu is the number one searched word. Their description reads, "Among celebrities, Tzuyu was the number one searched word. #SBSNews #TaiwanIndependence #DescendantsOfTheSun #LoveInTheMoonlight"
Fans were most outraged due to the complete inappropriateness and what seems like an absolute random choice of a featured image on Facebook. While Tzuyu may have been the most searched phrase due to the controversy surrounding the Taiwan flag, it's a sensitive issue for most fans and most likely, Tzuyu herself.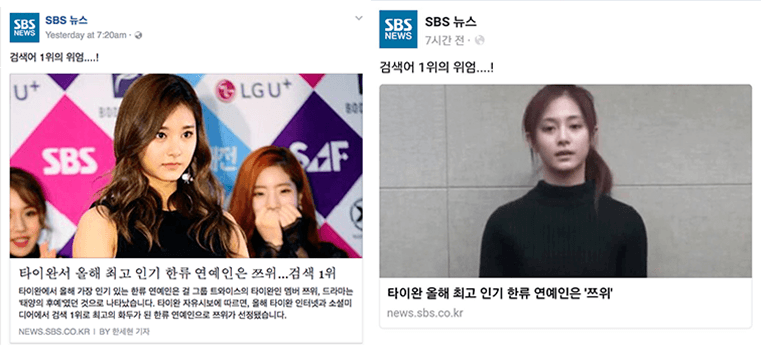 The controversy originally broke out in late November 2015, in an episode of My Little Television broadcast by MBC. TWICE was given the task to hold up a flag of their country of origin as the group is composed of members of different nationalities.
Tzuyu, who was born in Taiwan, greeted online viewers as Taiwanese and held up a Republic of China flag. From there, the issue became one of the biggest controversies of the year. Both Korean and overseas fans have shown their support for Tzuyu and she has become one of the most popular members of TWICE due to her unwavering strength during the scandal.
Share This Post