f(x)'s Amber Shuts Down Speculation About Her Sexuality
f(x)'s Amber was asked repeatedly about her sexuality by Kim Gu Ra, and her response shut it down immediately. 
On December 12th, Amber appeared on a tVN's Power of Variety where Kim Gu Ra was the host. The heated exchange of words started when she was asked about her hairstyle. Kim Gu Ra started questioning Amber with a jab at her hairstyle. Amber responded to this with, "I've heard the same thing for eight years. Every time I hear that…I get annoyed."
Since her debut with f(x) back in 2009, Amber maintained a short cut hairstyle that fitted to her boyish appeal. However, Kim Gu Ra continued to ask her about a possible change of hairstyle, even suggesting a Chinese ponytail similar to martial arts hero, Wong Fei Hung.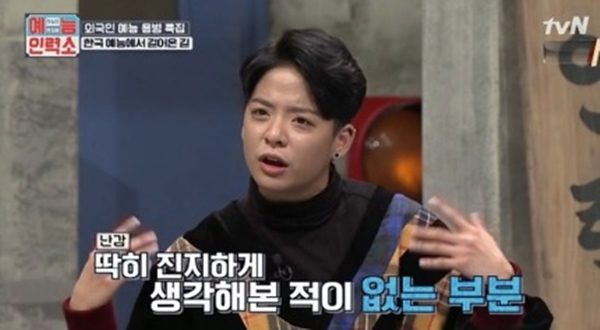 However, the talk about Amber's choice of hairstyle led to Kim Gu Ra to follow it up with, "Since your hair is short, do you not worry about other people mistaking your sexual identity since you also are boyish?"
Amber simply responded with "I don't care about that," and explained, "I have no interest in dating. Whenever I go on broadcasts I get asked 'What is your ideal type?' I have had a boyfriend before, but thinking about it now, I'm not interested in dating." 
This honest confession was one of the first from Amber. Due to her unconventional style and concept compared to her female celebrities, there have been subtle speculations about her preference. It seems like those questions have been silenced for now.
Source: Dispatch
Share This Post