f(x)'s Luna shows off bold fashion choice at airport
On July 4th, photos of f(x)'s Luna at the airport surfaced online, revealing her surprising fashion choice.
Luna and her fellow f(x) members were spotted on July 4th at Gimpo Airport in Korea. The group departed for Japan to participate in the upcoming SMTOWN family concert, "SMTOWN LIVE WORLD TOUR IV in JAPAN Special Edition," which will take place in the Tokyo Dome on July 5th and 6th.
Luna's airport fashion became a hot topic online shortly after the photos were uploaded. She can be seen wearing a jean skirt with a white sleeveless top that reads "NOPE." She completed her outfit with black shoes, sunglasses, and a hat.
However, what really caught the attention of netizens was the size of the arm hole of Luna's sleeveless shirt. Because the arm hole is so big, Luna's much of Luna's black bra is revealed, depending on the angle of the photograph.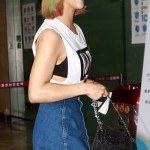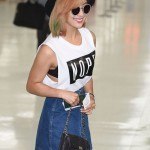 Netizens commented that this outfit was a rather bold choice for Luna.
[+248, -29] You guys are suffering because of Sulli……….Sulli's absence is huge
[+227, -36] This fashion is just no…
[+214, -57] I'm a girl too but I don't like it when girls dress like this…I wish they would keep their underwear to themselves…
Source: OSEN and Newsen (1 and 2)
Share This Post