f(x)'s Victoria gets another love call from Kang Ta
It seems like Kang Ta was left heartbroken when his first love call for f(x)'s Victoria was left unanswered. 
On December 12th, Kang Ta was one of the guests on jTBC's Please Take Care of My Fridge where he talked about topics on previous relationships and ideal types. The conversation started with a confession that his last relationship was three years ago and he struggled to date since then.
This led to the singer to continue the discussion about his ideal type and picked fellow SM Entertainment artist Victoria as his choice. When asked why he chose Victoria, he described, "She is very outgoing and full charms. Her eyes are pure, too."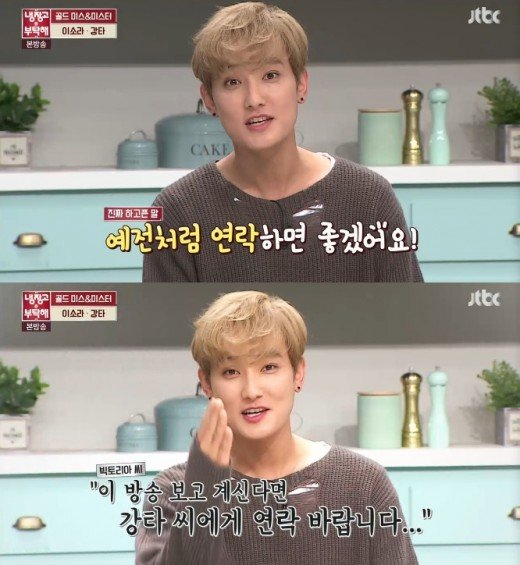 Although he has spoken about Victoria being his type in the past, it seems like that the two have grown distant since then. According to Kang Ta, Victoria has not contacted him since then. However, he made another plea and closed his statement with, "Victoria is very close to my ideal type. I wish she would contact me like in the past." 
Kang Ta first admitted his liking for Victoria back in 2013 in a Chinese variety program. Then, he confessed that he first met Victoria for one of his music videos, but was not able to pursue her as he was enlisting in the military.
Source: Dispatch
Share This Post