GOT7's Jinyoung And Kim Go Eun Radiate Bestie Energy During Their Radio Show Promotion For "Yumi's Cells 2"
They're so playful with each other!
GOT7's Jinyoung and superstar actress Kim Go Eun appeared as guests for SBS FM "Choi Hwa Jung's Power Time" to promote Yumi's Cells 2, and the chemistry the two shared off-screen had fans gushing over their friendship.
Right from the start, the two showed off their friendship simply by Jinyoung waiting for Go Eun to head to the station together. Rather than waiting for a co-worker, the atmosphere between the two is full of warmth and friendliness.
Jinyoung waiting for her so they can go together ☹️❤️ pic.twitter.com/fuhH3F5FLo

— for Kim Go eun ✨🤍 (@ggonebot) June 3, 2022
Throughout the show, Jinyoung and Go Eun passed the time with laughter, and Jinyoung mirroring everything Go Eun did indicates just how close and comfortable the two are with each other.
jinyoung sees jinyoung does pic.twitter.com/Ia7eOEC17w

— mich (@jyverse2) June 3, 2022
here's jinyoung and kim goeun being dorks and goofing off for 45 seconds straight#PowerTimeWithJinyoung #GOT7 @GOT7 #박진영 #Jinyoung #진영 @JINYOUNG #KimGoEun #YumisCells2 pic.twitter.com/HQ9cGRpC6G

— jinyoung.mp4 (@nyeongclips) June 3, 2022
At one point, the two talked about GOT7, and while they teased each other at first, the truth revealed that Kim Go Eun was an Ahgase.
kge: i know Got7 well… umm… ….
pjy: let's move on to the next question
host: sure you do know them well 🤣
pjy: hard carry hae~
kge: i know all the songs
pjy: she really knows all the songs #KimGoEun #ParkJinyoung #YumisCells2 pic.twitter.com/vXEadV0GHN

— lia🪐 (@tinkerbelllzz) June 3, 2022
The playful banter between the two didn't end there; when Go Eun shared how nervous she was before singing at her fanmeeting, Jinyoung made a show of trying to stop her from talking to save himself from second-hand embarrassment. While we've seen him often act this way with the other GOT7 members, the fact that he does the same with Go Eun speaks volumes about how close the two co-stars have become.
"i was nervous to the point i wanted to wear diapers" 😭 pic.twitter.com/r8KHURzsTe

— 딸체 (@jaebambum) June 3, 2022
The two didn't stop having fun until the end, even mirroring each other for a picture with the radio host.
i'm 100% sure jinyoung posed like this after he saw goeun posing that way, just best friend behavior pic.twitter.com/4YP36bPK1e

— mich (@jyverse2) June 3, 2022
With such a close relationship and effortless chemistry, fans eagerly await the premiere of Yumi's Cells 2 on June 10.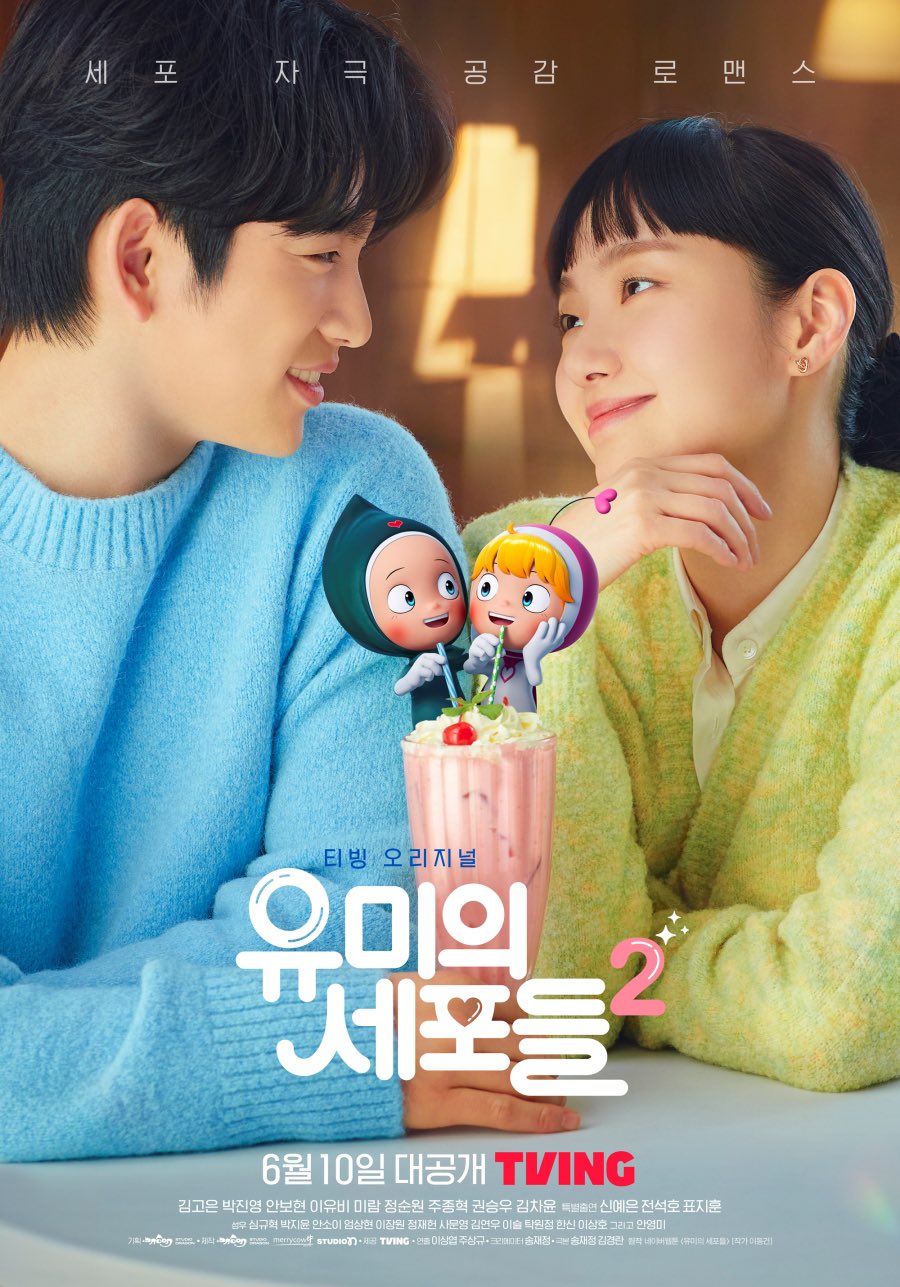 Share This Post