"Hot Pink" exceeds EXID's expectation on digital charts as it climbs to #1
With Hot Pink officially out, EXID's newest single has been topping the charts, revealing the success of their comeback.
Made available on November 18th, EXID celebrated the release of their new single via V App by inviting many of their close friends including Heechul, Gilme, Andup, BTOB, FIESTAR's Yezi, and more.
In a question asked by the host on how the group believed the single will do, Solji and Hani answered that they hope their single rank at #6 or #7 on the digital charts.
As of 9:30am KST on the 18th, Hot Pink has ranked even higher than they expected with the track coming in #1 on monkey3, Genie, Soribada, Olleh, and Bugs, #2 on Naver Music, and #4 on MelOn and Mnet!
EXID will be taking on their first comeback stage on Show Champion on the 18th, so look out for it!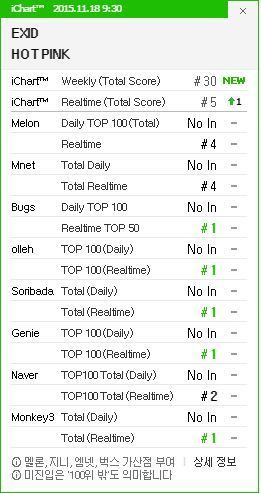 Share This Post