Idols invited to perform at the "2015 Dream Concert" get cut from official broadcast
Over 30 teams of groups and solo artists took the stage at this year's Dream Concert, held on May 23rd at the Seoul Olympic Gymnastics Stadium.Thus, it's not surprising that many Korean idols hope to one day grace the stages of the biggest music festival and concert of the year in South Korea and perform in before an audience of thousands.
Not only that, they also look forward to watching their own performance on television. So you can imagine the disappointment they must feel when they get cut out.
On May 31st, a netizen took to Instiz and posted a thread titled "Idols who were edited out of the '2015 Dream Concert' SBS broadcast" and listed Boys Republic, CLC, SPEED, MONSTA X, LABOUM, ROMEO, SONAMOO, Jun Hyosung, and T-ARA.
The cut performances also included a special collaboration stage between BTS' J-Hope and GOT7's Yookyeom.
The poster then goes on to post a screencap of LABOUM's SNS post that was captioned, "Waiting for the broadcast of #DreamConcert!! Are you waiting for it too~?? Kukeukeukeukeuk >.< #Laboum #Yoojung #Yoolhee #Yoohoo"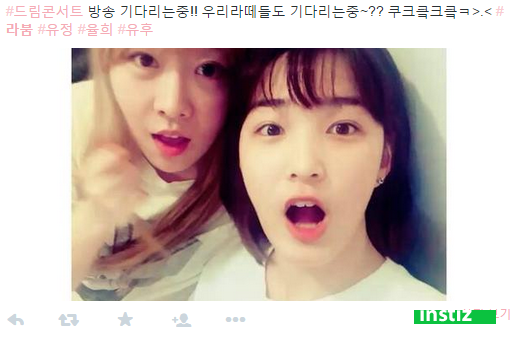 The original poster writes, "Especially LABOUM, who posted on Insta while waiting for 'Dream Concert' to broadcast. They must have been so speechless at the broadcastㅠㅠ (the Insta post is now deleted). They were edited out of the SBS broadcast today but were in MTV's full broadcast yesterday."
– CLC's… special stage…ㅂㄷㅂㄷ…
– I would be upset..
– Heol??? Through editing?? Heol??
– Disgraced through editing….ㅠㅠㅠ

– Hul…..they're really too much rookies would have been waiting like Laboum for broadcast at Dream Concert…
– SBS is too much.
– The editing was really weird with things suddenly getting darker
– T-Ara my babies ㅠㅠ…..I stayed up till the morning waiting for them
– EXO used to be edited out before ㅠ it was time for them to appear but they didn't. I still remember Sehun saying brightly, "I'm EXO's maknae Sehun" being editted out and it hurt me. Now they're almost the highlight and as a mama fan I feel so proud ㅠㅠ.
– As a T-Ara fan this makes me furious
– Really?? Jun Hyosung? Really??
Source: Instiz
Share This Post