INFINITE Woohyun accused of dating this non-celeb girl
Rumors of Nam Woohyun going to Disneyland Tokyo with a girl had surfaced after his friend posted photos on Instagram.
In early February, Nam Woohyun's friend, Noh Young Shin, uploaded a selfie with Woohyun on their flight to Japan, where they enjoyed their vacation by visiting Disneyland and many other popular attractions.
"Take off"

– Noh Young Shin (@t.gray___)
"I can't believe I came to Disneyland with you of all people"

– Noh Young Shin
Woohyun even uploaded a photo of him posing in front of Toy Story's Woody entrance in Tokyo's Disneyland.
A non-celebrity by the name of Kim Yoo Kyung was thought to have joined them on the trip, and was even suspected of being Woohyun's girlfriend, as she uploaded a photo (now deleted) of her wearing Woohyun's jacket at Disneyland.
Furthermore, the similarity of the photos she uploaded on her personal Instagram, the dates they were uploaded, as well as Noh Young Shin's comments on one of her photos further added to the speculation that Woohyun, Noh Young Shin, and Kim Yoo Kyung were all in Japan and touring together.
One of the first photos that added to the rumor was the photos of the Tokyo Tower, in which Kim Yoo Kyung and Noh Young Shin uploaded a photo of the tower just one day apart, prompting fans to think they were on the trip together.
Then, Noh Young Shin's comment on Kim Yoo Kyung's selfie taken in Japan confirmed that the two knew each other, and may have been on the trip together.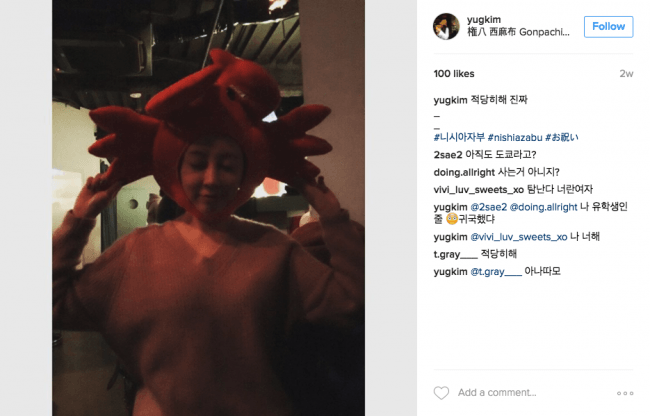 Furthermore, both their photos at Disneyland were uploaded on the same day, and from a very similar angle.
Soon, Woohyun's fans became highly curious as to who Noh Young Shin was, what relation he had to Kim Yoo Kyung, and by extension, Kim Yoo Kyung's relation to Woohyun.
A fan of Woohyun then sent Kim Yookyung a direct message on Instagram, asking if she knew Woohyun personally, to which she responded explaining the situation. The fan then uploaded screenshots of her replies along with an explanation summarizing the content and urged fans to stop believing in nonsense rumors.
우현이가 일본에서 만났다던 노영신 지인인 여자분한테 디엠으로 우현이랑 아는사이냐고 물어봤더니 이렇게 답변왔어요 알계들이 셋째에 대해서 이상한 루머 퍼뜨리는거 믿지말고 정확한것만 믿어요 제발 pic.twitter.com/kgFRNPAF0Q

— . (@onlyfact1) February 27, 2017
"I DM'ed the friend of Noh Young Shin who went to Japan with him and asked if she knew Woohyun personally and she replied with this. Don't believe the rumors being spread here by egg accounts and please only believe the true facts."

– Anonymous Twitter user
Here's the full message translated: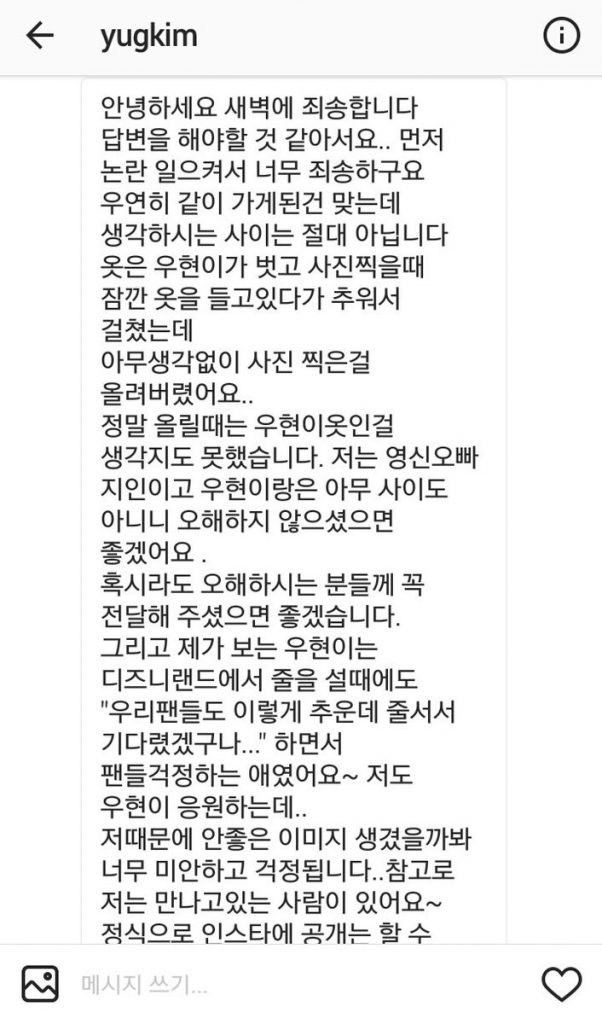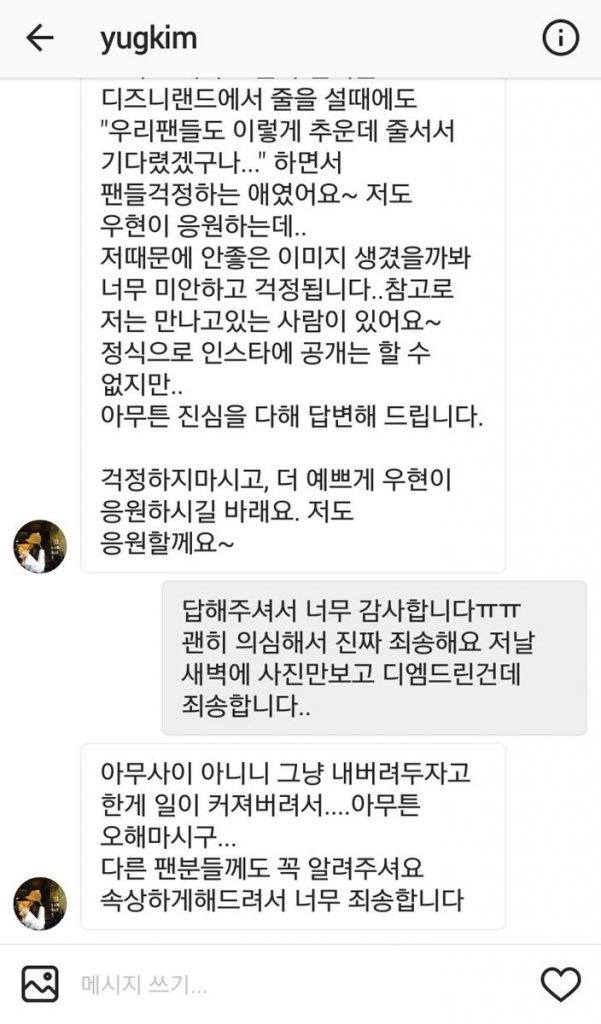 "Hello, sorry for the late message but I felt like I had to respond.. Firstly, I'm so sorry for causing such a controversy, we did indeed coincidentally go together but our relationship is absolutely not what you think. Woohyun took off his jacket to take a photo and I held it for him, but I got cold so I put it on myself and took a photo, then uploaded it without thinking it through.. When I uploaded it, I didn't even think it was Woohyun's clothes. I'm a friend of Noh Young Shin and I have no relation to Woohyun whatsoever, so please don't misunderstand. I hope you can share this with anyone else who misunderstood as well. And when I met Woohyun, he said "Our fans must have waited in line like this in the cold…" and worried about his fans a lot~ I'm also a fan of Woohyun.. I'm really worried and sorry that his image may have been damaged.. And besides, I am currently in a relationship~ I can't officially reveal him on Instagram though.. Anyway, this is my genuine reply.

Please don't worry, and please continue supporting Woohyun in the way that you do. I will also support him~"

– Kim Yoo Kyung
"I initially let the situation handle itself because we really weren't in any relation but it got so big….Anyway please don't misunderstand.. And please let the other fans know. I'm so sorry for upsetting you."

– Kim Yoo Kyung
The fan then thanked her for the reply and apologized for suspecting her with little to no ground.
On February 28, Woohyun finally spoke up about the controversy, where he updated his Instagram with two selfies jokingly scolding his fans for assuming the worst.
"I said it's not true so stop it ㅋㅋ Sigh ㅋㅋ Grr ㅋㅋ"

– Woohyun of INFINITE
"What do you take me for? ㅋㅋ hing"

– Woohyun of INFINITE
Fans quickly commented on these two posts and assured him that they believed in him from the start, and thanked him for clearing the misunderstanding so quickly. Eventually, Woohyun also unfollowed Noh Young Shin.
Share This Post