Investors react negatively towards Suzy and Lee Min Ho's relationship
Following the shocking announcement of miss A's Suzy and Lee Min Ho's relationship and confirmation by the agencies that shook the whole K-pop world, the value of JYP Entertainment's stocks listed on KOSDAQ have quickly plummeted.
Listed as JYP Entertainment Corporation (035900.KQ), the stocks were valued at 4,760.00 won, with a large fall of -4.03% at 12:02pm KST on March 23rd. The value continuously fell since 10:10am KST, around the time when news from Dispatch was released. This signals that investors and the general public initially reacted to the dating news negatively.
The stocks started rebounding after 12:02pm KST, but is still seeing fluctuations, with the value still below what it was in the morning.
JYP Entertainment's stocks also saw a significant plummet last June due to J.Y Park's alleged connection with Sewol fugitive, Yoo Byungho.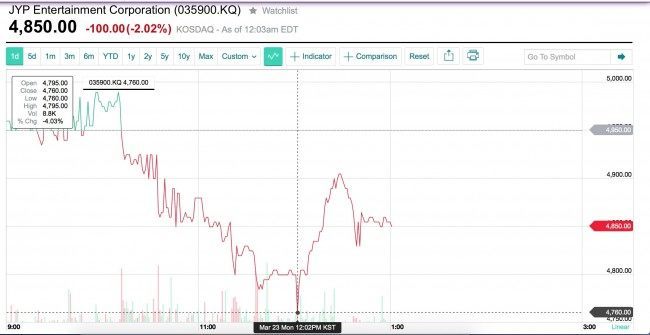 Source: Yahoo Finance
Share This Post