High School Rapper Contestant Responds To Jessi And Swings Calling Him "Pig"
Swings and Jessi called High School Rapper contestant Lee Dong Min a pig, and here's how he responded on his Facebook.
In a recent episode of High School Rapper, contestants Lee Dong Min and Kim Dong Hyun faced off in a 1:1 rap battle. Before their performance, Swings and Jessi gave Kim Dong Hyun some motivation, as he previously revealed he had lost his confidence.
To Kim Dong Hyun, Swings first told him that he was the underdog, so if he really gave it his best in the battle, he could win. However, his advice soon turned to a diss towards Lee Dong Min, especially in regards to his weight.
"You're the underdog, you can win. Stab at it, just take that pig down."

— Swings
Jessi then smiled and added:
"That's right, pigs can be taken down."

— Jessi
Many netizens were shocked at how the judges criticized a contestant's weight and appearance, especially right before a 1:1 battle. As a result, Lee Dong Min lost the battle 69:31, and netizens couldn't help but think Swings' and Jessi's words had affected his performance.
However, on March 25, Lee Dong Min decided to respond to the controversy on his own Facebook, where he made a public post asking netizens not to criticize the judges.
"I… Everyone
What happened is.. What Swings hyung said as a joke is becoming a huge controversy..
I've read comments claiming I rap better than Swings but my rap skills can't even compare with Swings's..
I started rapping after I fell in love with Swings…
Anyway Swings is a really great person and man
So please don't criticize Swings so much..!!"

— Lee Dong Min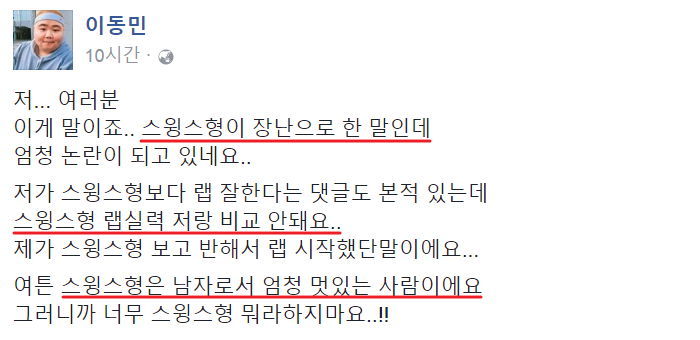 Watch their battle here.
Source: Insight
Share This Post