Jessica Jung and f(x)'s Krystal to hold fan signing events for "Lapalette"
Jessica Jung and f(x)'s Krystal continue promotions for fashion brand Lapalette as they are scheduled to hold exclusive fan signing events for the brand.
According to Lapalette, Jessica Jung will be holding her own fan signing on December 6th in their store in Myeongdong, which will be followed by Krystal's event on December 13th at its pop up shop in Lotte Department Store. The fan meet is scheduled to be released in commemoration of their latest bag, "Muse Bag," which was exclusively designed for the sisters, who in turn, will be promoting the line.
Fans who wish to join the signing event will have to make a purchase at a first come, first serve basis. At least 40 people will be allowed to meet either Jessica Jung or Krystal respectively.
An official from the brand further released a statement that since choosing the siblings as their brand endorsers, the brand value of their line remarkably increased. Fans who will be joining the event will be able to enjoy the exclusive session as they interact with the Jessica Jung and Krystal.
Despite Jessica Jung's ongoing criticisms since leaving Girls' Generation, she has been busy with her own endeavours, especially for her fashion brand, BLANC & ECLARE. Recently, however, she caught the interest of her fans as she reunites with sister Krystal, for a photoshoot for Lapalette.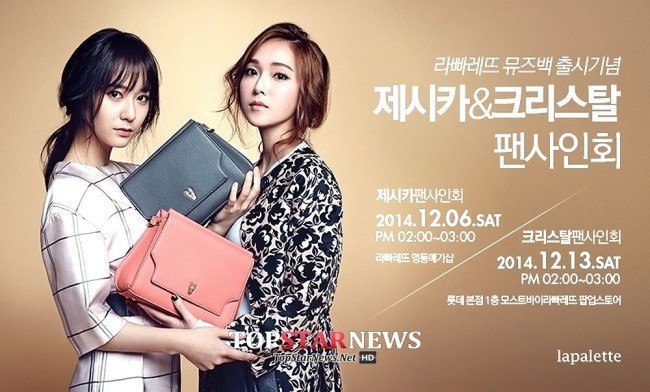 Source: TopStarNews
Share This Post