Jessica Jung and Luhan abolished from "SuperStar SMTOWN"
On April 8th, SM Entertainment made an announcement telling fans that Jessica Jung and Luhan will be removed from SuperStar SMTOWN, a game launched by the agency.
SuperStar SMTOWN is a rhythm game featuring songs by artists under SM Entertainment. In order to increase the score, players of the game have to collect cards and level-up for each solo artist or member of a group.
As the game was officially launched back in August 2014, Luhan was included as a member of EXO-M and Jessica was included as a member of Girls' Generation. The two artists remained in the game despite the filing of a lawsuit against the agency by Luhan back in October 2014 and the departure of Jessica from Girls' Generation back in September 2014.
However, with the recent announcement, players of the game are to exchange their Luhan and Jessica cards for other artists' cards sometime in April. According to the same announcement, players will no longer be able to play with the cards of Luhan and Jessica after the day of exchange.
While a lot of fans are not surprised by this announcement, many have expressed sadness that Luhan and Jessica will now be officially removed from the SM Entertainment game.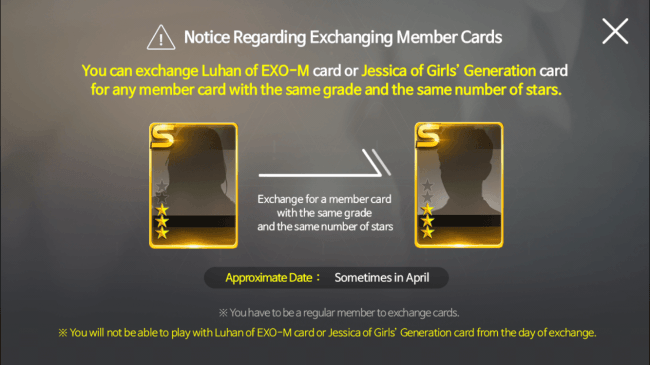 Source: SuperStar SMTOWN App
Share This Post