Jooyeon releases personal statement following graduation from After School
As Pledis Entertainment confirms Jooyeon's departure from After School, Jooyeon updates their official homepage with her personal statement. 
On December 31st, Jooyeon posted a notice on their official homepage, personally announcing her withdrawal from the group as her contract with Pledis Entertainment expired. She started the statement introducing herself, confessing that she doesn't know what to say.
The message continued as Jooyeon expressed that,"First, I would like to apologize to those surprised by the news. It has been six years since I joined After School. In retrospect, there were a lot of moments filled with laughter and sadness."
However, she also disclosed her plans on her future activities saying, "I think I will be able to grow and become more confident as I face this new challenge. I am excited, but there is also worry."
She also revealed that although she cannot be with the members and join the fans who love After School, she detailed that this not a permanent farewell. By the end of her message, she promises to not disappoint her supporters and will show her improved image.
Meanwhile, Jooyeon is currently gaining attention for her participation in various acting projects and has recently played the role of Sandy in the play, The Man From Earth.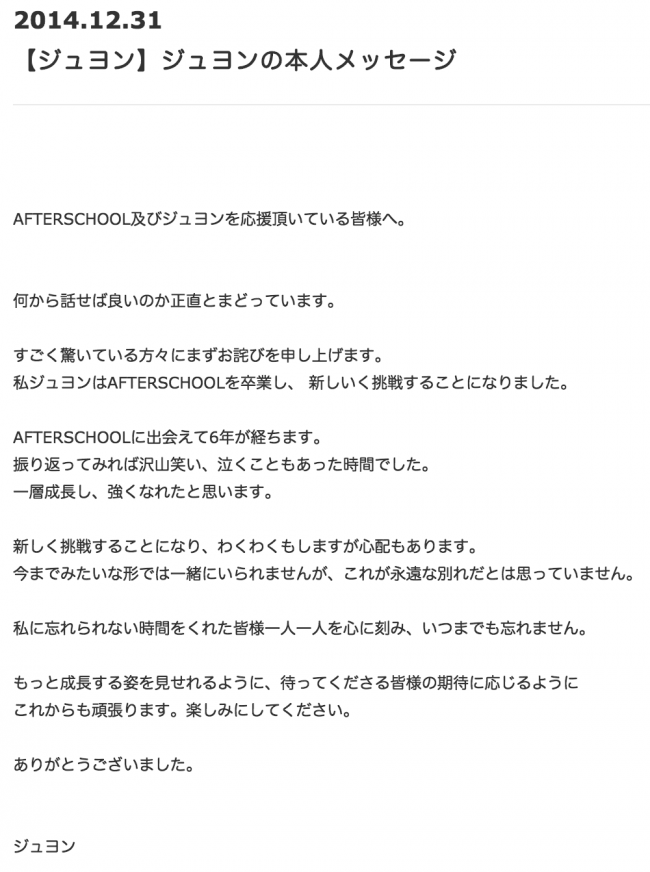 Source: After School Japan
Share This Post