JYJ's Kim Junsu involved in a lawsuit over his Jeju Toscana Hotel
JYJ's Junsu, who recently opened his own luxurious hotel on the island of Jeju, is currently involved in a lawsuit against two companies, who have claimed unpaid dues for their construction work.
On December 10th, Korean media portals began to report on the situation, revealing that Chunji Constructions and CJ Constructions have lent the entertainer $5 million dollars in equipment funds for the building of the hotel, Jeju Toscana. However, since the completion of the hotel, the companies have not been paid back their dues and have not heard anything from the other party.
The two companies have applied for seizure of property, to which they court has approved, demanding Junsu pays them back immediately.
Replying to the allegations, Jeju Toscana Hotel, "The constructors of the hotel Chunji Constructions and CJ Constructions have misappropriated the cost of construction. Evidences is appearing indicating that the two construction companies almost doubled the cost of construction and misappropriated funds. We plan to take legal action and take a strong stance against them."
The hotel further stated the constructions company's actions of seizure of property and order of payment are simply, "attempts to mar the image of a Hallyu star with events that never happened."
They further revealed that IOUs were written up on August 4th after both construction companies claimed they "needed it for accounting documents," however, no specific owing amount was included. Jeju Toscana Hotel was revealed to have kept a copy of the IOU, revealing the document, saying, "The IOU is for bank and accounting use only and does not signify an actual owing amount. Signed with a seal to state the above."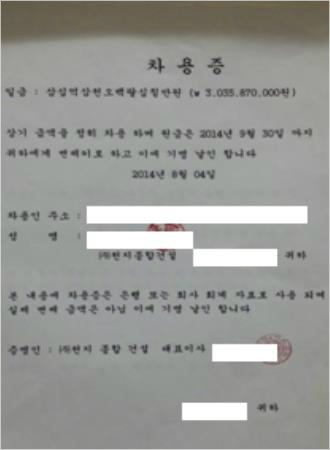 In addition, Kim Junsu had borrowed $15 million dollars, while building the hotel and paid Nonghyup $9 million in owing.
A representative attorney from the hotel, Jun Heewon stated, "In the process he paid the remaining $6 million to the company and the repayment is solely the responsibility and worry of Kim Junsu. This means that there is no owing amount that Kim Junsu has  to pay the two construction companies."
Park Sung Mi, the marketing director of the hotel, said, "The construction companies knew we were preparing a lawsuit against them and purposefully released such damaging statements. They did this because they thought the CEO would not be able to take strong action due to his status as a Hallyu star. They are ridiculing him. We plan to start our lawsuit when JYJ finishes their Osaka concert on the coming 14th."
CBS No Cut News attempted to reach Chunji Constructions for their statement, but was unsuccessful in their numerous attempts.
Source: MBC NEWS and No Cut News
Share This Post