JYP Entertainment releases official apology letter for Tzuyu scandal
After TWICE member Tzuyu released a heartbreaking apology video in regards to her Taiwanese flag incident, her agency JYP Entertainment released an official apology letter to the People's Republic of China. 
The company and Tzuyu came under fire from Chinese broadcasting stations and netizens after TWICE member Tzuyu was seen holding up a Taiwanese flag during a recent broadcast. Chinese nationals who saw the show were offended that the singer was holding up the Taiwanese flag as opposed to the communist Chinese flag, and proceeded to spread word that the 16-year old singer was promoting Taiwanese independence.
Since then, Chinese television stations have cancelled all broadcasts featuring TWICE, and other JYP Entertainment artists have been affected as well. Chinese netizens also started using the hashtag #boycottJYP to condemn Tzuyu, who many consider a traitor to the People's Republic of China.
In response to the incident, JYP Entertainment previously released an official statement clarifying that Tzuyu did not have any ill intentions, and in fact has no solidified political opinions as she is still a minor at age sixteen. However, this did not quell broadcasting stations or netizens, prompting a formal apology to the communist nation by both Tzuyu and JYP Entertainment as a whole. JYP Entertainment's CEO Park Jin Young's official apology and a translation of it can be found below: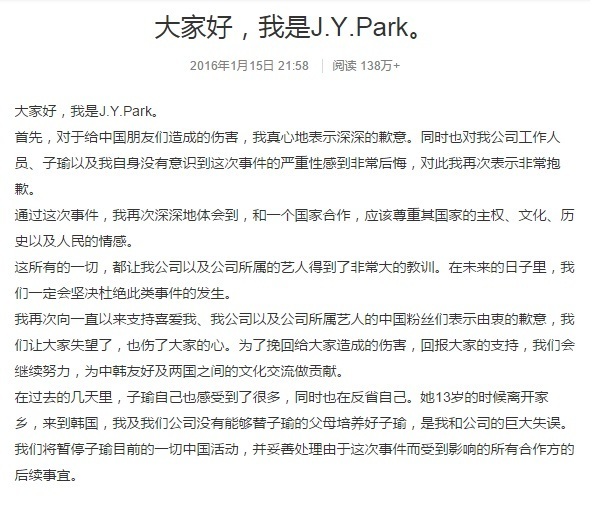 Hi everyone, I am J.Y. Park.
First, I sincerely and deeply apologize for bringing pain to Chinese netizens. At the same time, I feel regretful and again apologize as my company's staff, Tzuyu, and I did not recognize the seriousness of this situation.
Through this incident, I once again deeply experienced that, to collaborate with a country, we should respect that country's sovereignty, culture, history, and the people's feelings.
All of this has taught my company and the  artists a very big lesson. In the future, we firmly will not allow similar incidents to happen.
I once again offer my apologies to all of the Chinese fans who have continuously supported and liked me, my company, and its artists. We let everyone down and hurt everyone. To make up for all the damages done to everyone and to return everyone's support, we will continue to work hard in order to contribute to the cultural exchange between the Chinese and Koreans.
In the past few days, Tzuyu herself has felt a lot of emotions and has been reflecting at the same time. She was 13 when she left home, came to Korea, and it is my and the company's fault for not being able to cultivate Tzuyu in place of her mom and dad. We will stop Tzuyu's current activities in China, and effectively handle all of the problems faced by affected parties due to this incident.
Source: JYPnation Weibo 
Share This Post