K-Pop Boy-Group HIGH4's Crowdfunding Campaign Reaches 400% of Goal For Production Of New Mini-Album
With management agencies unable to fully fund their idols and resorting to crowdfunding its production, HIGH4 raised expectations after achieving more than 400% of their goal. 
On June 3rd, crowdfunding platform Make Star closed raising funds for HIGH4's mini-album production after raising more than 400% of their aim, equivalent to $36,961.00. The agency also released a statement about some of the rewards promised to their fans due to certain limitations on its occupancy.
The project was started back in April allowing fans to contribute to their mini-album production while offering rewards such as a ferry ride in the Han River, meet and greets and an amusement park dates.
HIGH4 is a boyband under N.A.P Entertainment that made their debut back in April 2014.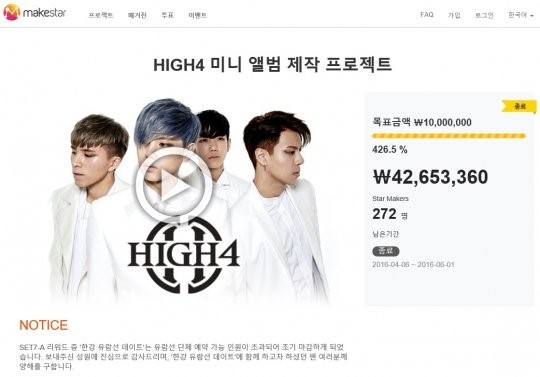 Source: Dispatch and Make Star
Share This Post