Kangnam playfully mocks M.I.B by calling them "squids"
M.I.B's Kangnam has jokingly mocked his group members by calling them "ugly", later stating that he is the most handsome member out of the whole entire group!
On the most recent episode of MBC Section TV that aired on November 9th, Kangnam of M.I.B made quite the courageous and undaunted remark when he stated that all his fellow band mates, excluding himself, were unattractive.
During an interview on Section TV at the site of Kangnam and model Nam Joo Hyuk's photoshoot, the MC began asking the two celebrities about physical appearances. Kangnam began explaining his very first impression of Nam Joo Hyuk and how the model is the most good-looking person he knows among the people around him.
When MC Hwang Jae Sung asked, "Do you think Nam Joo Hyuk is better looking than your own M.I.B members?" Kangnam retaliated with utmost sincerity, "They're all ugly, what are you talking about?"
The M.I.B member continued with a short remark that got the whole studio on a laughing rampage, "They're all super ugly. My members are all squids." Many Korean netizens have recently begun using the word "squid" as a slang term for describing unattractive individuals.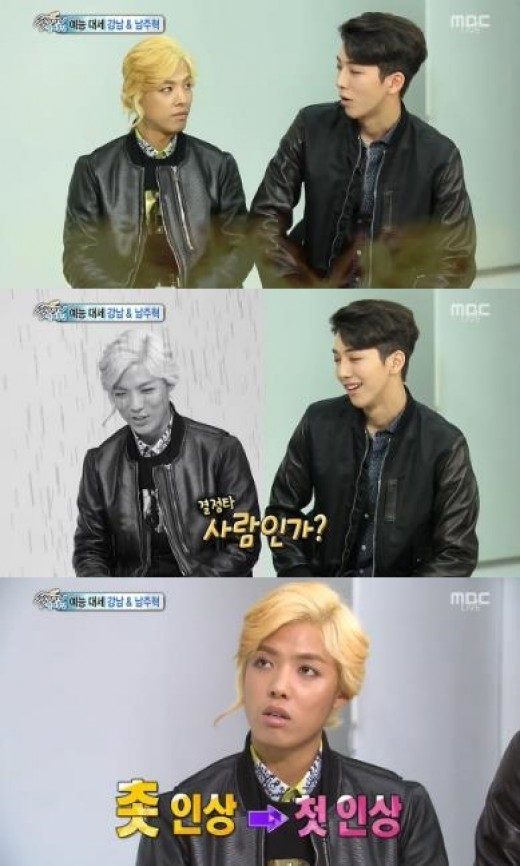 Source: TV Report
Share This Post