Kim Jong Kook claims he's more popular than Yoo Jae Suk
On the January 26th episode of Healing Camp, Kim Jong Kook boasted about his popularity in China and even said he was more popular than Yoo Jae Suk!
The MC introduced the Running Man Commander as "The first person to ever beat Yoo Jae Suk" joking about Yoo Jae Suk's overwhelming popularity as the "Nation's MC."
Kim Jong Kook's boast is not groundless, however. Last year, a popularity vote was conducted for the SBS Awards Festival and revealed that Kim Jong Kook was most popular among Chinese fans who participated. The survey showed Kim Jong Kook received 120 million votes from fans. The next most popular member was Yoo Jae Suk who came in with only 700 votes surprising the MCs and the guests and proving Kim Jong Kook's overwhelming popularity in China.
The singer and variety personality went on to say that his manager specifically told him to bring this up on the show even though it is a bit embarrassing.
Meanwhile, the singer recently reunited with his fellow Turbo members on Yoo Jae Suk's other show Infinity Challenge on the 90s singers throwback segment, "Saturday Saturday is for Singers."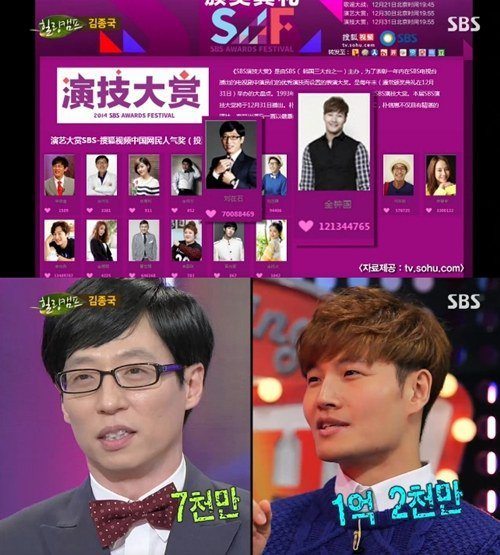 Source: Newsen
Share This Post