Kim Kwang Kyu Carried Fan's Autograph in His Wallet For Over Ten Years
Kim Kwang Kyu claims he gained strength from the kind words of a fan's autograph, which he's kept in his wallet for over 10 years. 
The popular actor Kim Kwang Kyu recently admitted on MBC's I Live Alone that he was once able to gain strength from an interaction he had with a fan. He stated that during a low point in his career following his role in the hit film Friends, he ran into a fan who recognized him and said,"You're Kim Kwang Kyu right? You're an amazing actor."
According to the actor, this experience was special to him because he was concerned he had been forgotten by his fans. It was so moving, in fact, that he asked the fan for her autograph in return.
He carries the autograph in his wallet to this day.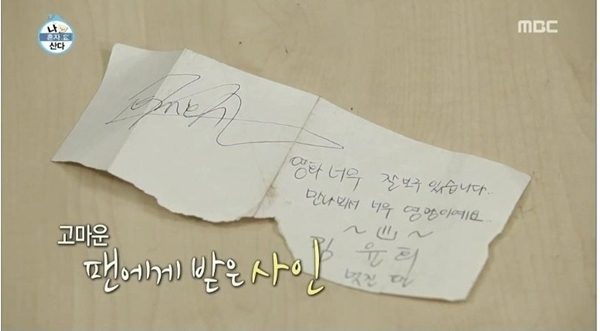 The autograph written by the fan was short and very kind, stating,
"I enjoyed your movie very much and it was an honor to meet you."

— Kim Yoon Hee, your awesome fan
Kim Kwang Kyu caught the public's attention from his role in Friends in 2001, and he has since acted in many popular K-Dramas including Pinocchio, Reply 1994, I Can Hear Your Voice, and most recently, Hwarang.
This interaction between an actor and his fan shows a side of Kim Kwang Kyu that wasn't previously shown to the public and is a reminder of the importance of the bond between entertainer and fan.
Source: Dispatch
Share This Post