This Korean 70 Year Old Was So Poor, He Had to Steal Kimchi
One elderly citizen in South Korea was caught stealing kimchi due to his low income, and the response from Korean citizens and police was incredibly heartwarming.
On March 14, an elderly citizen named Mr. Choi (70) was caught stealing a bag of kimchi priced at 50,000 KRW (approximately $44 USD) at Gwangju's Daein Market. The kimchi was stored in plastic bags and on display at the front of the store, so Mr. Choi allegedly grabbed one and walked 1 km in the direction of the motel he was living in. According to some witnesses, he allegedly dropped the bag on the way, but picked up the dirt-ridden kimchi and still ate a portion of it.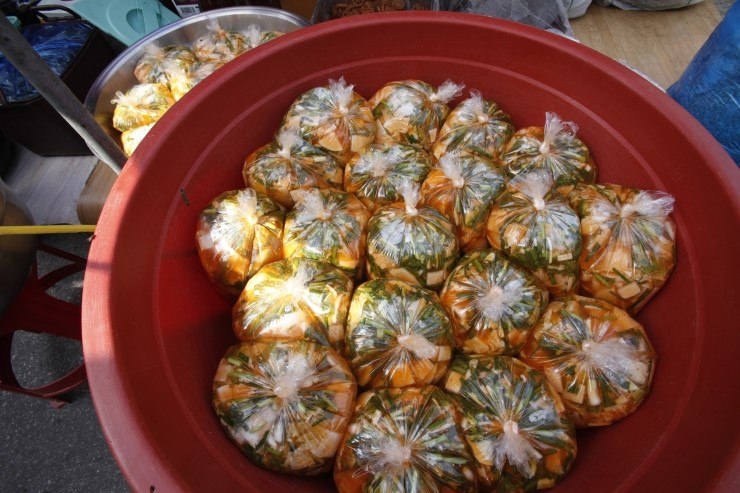 Upon being arrested, Mr. Choi explained to the police that he stole the kimchi because he was hungry, and that he couldn't afford anything to eat. According to the reports, Mr. Choi receives a monthly 200,000 KRW (approximately $177 USD) from his old-age pension, where 150,000 KRW (approximately $133 USD) of it goes towards his motel rent, and he lives off the remaining 50,000 KRW (approximately $44 USD).
"I was hungry and I didn't have any banchan [side dishes] left, so I stole the kimchi."

— Mr. Choi
On March 17, Gwangju Dongbu Police reported that they were bombarded with calls in regards to the elderly citizen who stole kimchi from the local market.
But rather than sending complaints, the citizens who called the police inquired about how they could help the elderly citizen, expressing that they found it unbelievable how difficult it was for some to even afford a meal for themselves in times like these.
According to the market merchants, Mr. Choi is a regular visitor who has shared his meals with them before, such as jjajangmyeon (black bean noodles) and even watermelon. Thus, the merchant whom Mr. Choi stole the kimchi from expressed that he didn't want to press charges.
The Gwangju Dongbu Police soon announced that in spite of Mr. Choi's theft, he will not be punished by law, and instead, the police will be looking for ways they and other residents can help him.
"Even though he committed theft, the police are planning on finding methods to help him to the best of our abilities. We will be visiting a community service center with Mr. Choi to see if he qualifies to be a recipient of basic livelihood welfare."

— Gwangju Dongbu Police
Source: Dispatch
Share This Post