Lee Jong Suk completes first China fan-meeting
Actor Lee Jong Suk has proven his popularity overseas after completing his first fan meeting in China in Beijing on the 19th as a part of his Asian fan meet tour.
Lee Jong Suk of School 2013, I Can Hear Your Voice, and most recently Doctor Stranger fame has proved that he is one of the hottest actors in Asia today!
From the moment he set foot in China, Lee Jong Suk's influence was blatantly apparent. His arrival at the Beijing airport was met by large crowds as fans gathered to see this Hallyu stars arrival. As a result, a video his entrance is set to broadcast in the coming weeks.
Before his fan meet, he held a press conference attended by 50 major Chinese media outlets. However, the attendance of the press did not stop him from being his frank and honest self that fans have come to know. In addition, he held a small fan meet where attending press was able to witness his unique charm. Press has been calling him "The Hallyu 4th Generation Emperor" and "God of Asia" for his explosive popularity.
His fan meet was attended by countless screaming fans while Lee Jong Suk did his best to provide as much fan service as he could to show his thanks for their support. At his fan meet, Lee Jong Suk packed in as many interactive activities as he could including giving out some presents, taking pictures with the entire audience, a Q&A session, and even meeting the fans on stage in a doctor's coat to reenact a scene from his latest hit "Doctor Stranger."
At the end of his fan meet, he closed his fan meet with a heartfelt letter and a video titled "I'll Give You Everything" as he expressed his sincerity to make his fans proud with his future projects as well.
Lee Jong Suk is currently rumored to be considered for a Chinese-Korean joint reality show along with other hallyu stars including Lee Minho, EXO's D.O, and Jong Suk's close friend Kim Woobin who surprised him at a fan meet for his birthday last month! However, it has been confirmed that he will be starring in upcoming drama "Pinocchio" opposite Park Shinhye.
Are you looking forward to the new Hallyu Emperor's next project?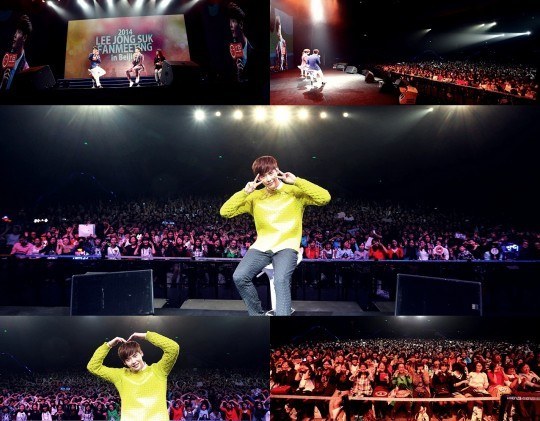 Share This Post