Lee Kwang Soo wins Top Excellence Award at 2016 SBS Entertainment Awards
The members of Running Man reunite for the last time at the 2016 SBS Entertainment Awards. 
By the end of the night, show member Lee Kwang Soo took home the Top Excellence award for his role on Running Man. He dedicated his victory speech to the cast and crew of the show, proving his loyalty and love for everyone.
"I'm sorry. I would like to thank the producers for working so hard to protect Running Man and maintain all the love it receives.

I want to thank Ji Suk Jin for teaching me comedy and giving me life lessons. I want to thank Jaesuk who has made it possible for me to be here and my mentor Jong Kook. Haha is like my family, and Jihyo my real older sister, Gary my brother, and Joong Ki.

I love you all. I've been so happy. I was happy for 7 years from when I was 28 to 33 now, and I thank you for giving me such a great award and love. This is more than I deserve. I will try my best to bring you laughter until the very end. Let's end everything on a good note. "
Yoo Jae Suk, Ji Suk Jin, HaHa, Kim Jong Kook, Song Ji Hyo and Lee Kwang Soo showed a united stance as they graced the red carpet event earlier in the night. Despite the recent controversy that resulted to the end of the program, the members were all smiled as they greeted the press and their fans alike.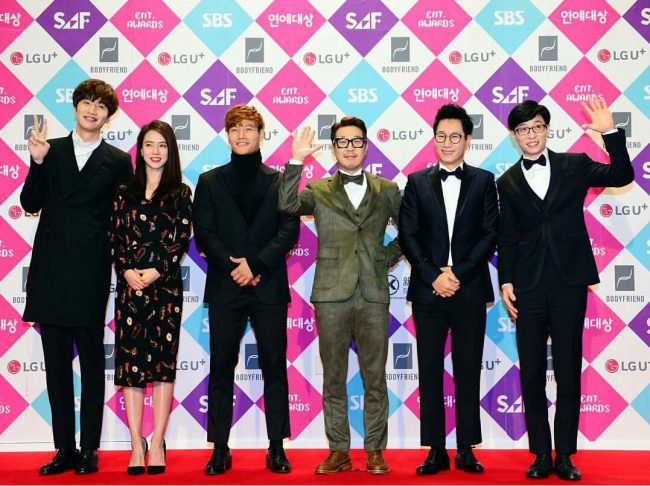 The photos caught a lot of interest as it may be the last time that the cast members attend the event together before the program ends in February. For the past seven years, the cast original set of cast members attended and gamely posed for the SBS' yearly ceremony.
Earlier today, the members also received an apology from SBS and their staff for the recent controversy. It was included in the latest episode of the program.
Watch the full acceptance speech below by Kwangsoo!
Source: Sports Chosun
Share This Post