'Legendary Guitar Man' on "King of Masked Singers' speculated to be an EXO member
The masked contestant known by the name of 'Legendary Guitar Man' has sparked a lot of interest after the most recent episode of King of Masked Singer aired with suspicions that his true identity is that of a popular idol.
The episode aired on August 23rd via MBC with contestant 'Go! Hawaii' as the 10th generation masked king.
In the first round, Toy's hit track "A Passionate Goodbye" was sung by 'Legendary Guitar Man' and his competitor, 'Knowledgeable Person.'
Panelist Kim Chang Ryul commented, "'Guitar Man' seems to be an idol. The dancing seems to be similar to that of INFINITE's Kim Sungkyu," while Kim Gu Ra seemed to agree as he said, "It's clear that he's an idol."
Many viewers have also voiced out their opinions and agreed that 'Legendary Guitar Man' is an idol with others speculating that he is Chen of the popular male idol group EXO.
An online community then compared a habit Chen is known for doing when hitting high notes during performances in which his right hand goes up as if holding a guitar.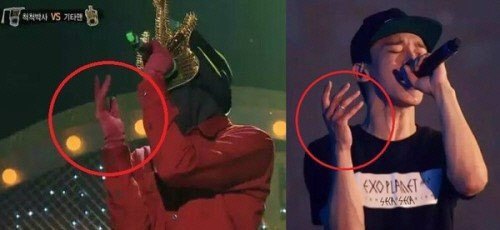 However, because he was not eliminated in the episode, his identity will remain a secret until he is. 'Knowledgeable Person' was revealed to be actor Jung Sang Hoon.
With this episode aired, another idol has been identified to have amazing singing skills. In the past, such idols who has gained this spotlight include EXID's Solji, f(x)'s Luna, B1A4's Sandeul, BTOB's Yook Sungjae, and Melody Day's Yeo Eun.
Source: TV Report and Sports Kyunghyang
Share This Post