Lipservice to continue as a duo following the questionable exit of member Cora
After over 24 hours of fans demanding an explanation as to the whereabouts of member Cora, Lipservice staff and members revealed she has officially left the group due to personal reasons. 
On February 18th, photos of members Anna and Bipa were unveiled via their Facebook account, a simple post of "D-7" indicating a comeback. Though receiving comments praising their stunning photos as they wore simple outfits consisting of loose sweatpants and crop tank tops that showed off their flat stomach and abs, fans were insistent as they flooded the page with questions of where member Cora was and why she hadn't been included in said photos.
Some fans began to investigate themselves, even taking to Cora's personal Instagram account to ask her if she had been taken off the team to which she replied back with messages in broken English in attempts to get her message clear across with posts such as, "I'm sorry, I did not want [this]. But they cannot anymore. Lipservice members, they were informed. While I was [in the group] I was happy, together with you [fans]."
A week prior to to the initial "teaser images" with Anna and Bipa, Cora had left a sudden sad post on her Instagram, attracting the concerns to fans, who would later come to suspicions that she had been pushed out of the group. She wrote, "Right now I am sad and really unfair . But I'll understand. Too sad . . Now the pain would make me believe more strongly . I will continue to sing."
To this, fans gave strong words of encouragement, to which she replied and thanked them for their everlasting support. In reply to another fans on her Instagram, Cora confirmed that she did not have a fight with the other members, and therefore, was not a result of her leaving the group.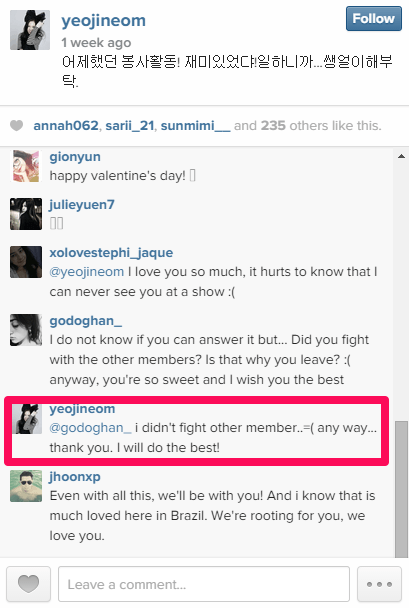 Finally, after much anticipation, a statement was finally released to which Lipservice staff and members post, "As you have all heard, Cora is unable to continue on with Lipservice. It brings us great sadness to confirm this to our fans. In the past year, we have become as close as sisters working alongside 24-7 to realize our dreams together. Our company has respected her lifestyle and choices, and have decided to let her go. It is a great loss to our group but we will endure through these challenges and work harder than ever before. We all thank you for your love and encouragement."
Lipservice made their debut in February 2014 as a duo consisting of Cora and Bipa, while Anna was added to the group in their comeback and second single "Upgrade" released in August 2014. The trio made a return in October 2014 with the single "Relax," and recently celebrated their 1st debut anniversary with fans recently.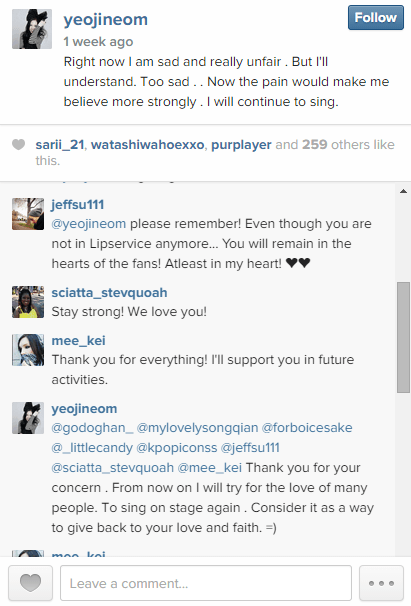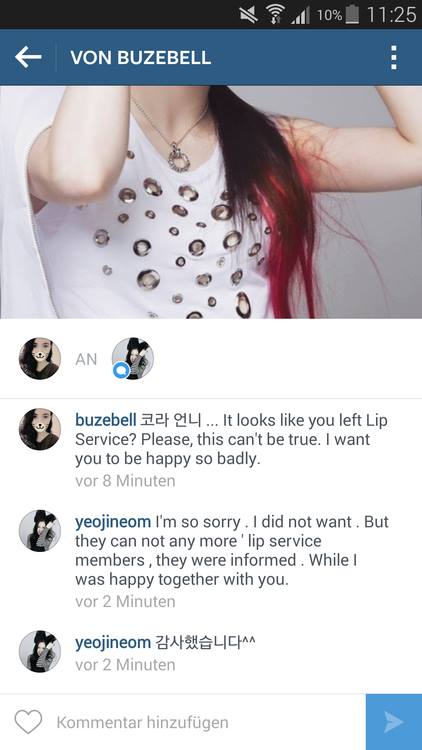 Share This Post