MBC's "Infinite Challenge" embroiled in plagiarism controversy
An episode of MBC's Infinite Challenge has recently came under fire and has been accused of plagiarizing a Japanese variety show.
The Infinite Challenge episode aired on February 28th and featured the cast members and guests playing the game called "Human Present Catcher." The participants were paired into groups where one member acted as the claw to retrieve the presents and the other member utilized a button to control the human claw. The purpose of the game is to retrieve presents floating in a pool, with one present being one point. The presents floating in the pool included a refrigerator, a package of uncooked rice, a rice cooker, a television, and an air conditioner. The team to catch the most presents and stack up the most points are declared the winners.
An online community shared a topic "Plagiarism Controversy" after the Infinite Challenge episode aired. A variety show in Japan as aired an episode with an identical episode two years prior to Infinite Challenge's episode. The plagiarism claims lie in the similarity of camera angles, game objective, and set design that includes water.
The "UFO Catcher" is a popular game in Japan and the Japanese variety show drew inspiration from the street game to create the "Human UFO Catcher" in 2013. The game show required the contestants to work in pairs with one human UFO catcher and one controller.
The claims are stating that if Infinite Challenge really did draw inspiration from the "Present Catcher" game, there was no real reason to include water. The viewers who made the claim were shocked at how similar the "Human UFO Catcher" and "Human Present Catcher" were designed. They are also saying that it will be difficult for Infinite Challenge's Kim Tae Ho PD to say that he has never watched the Japanese variety show.
The public is currently waiting for Kim Tae Ho PD's explanation.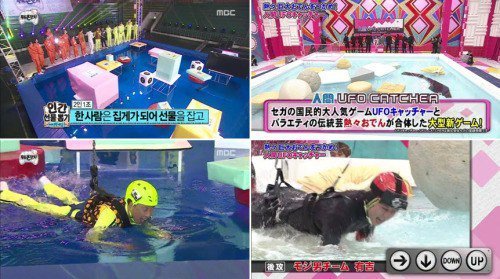 Source: Sports World
Share This Post