Media experts reveal the secret formula behind the success of idol groups?
Could the success of K-Pop girl groups be as simple as just adding members after the group's initial debut? There seems to be a growing pattern of this.
In an Op-Ed written by TV Report, the reporter writes about how the current popular girl groups have all experienced a change in their lineup whether it be simply just adding members or even the replacement of members (for various reasons).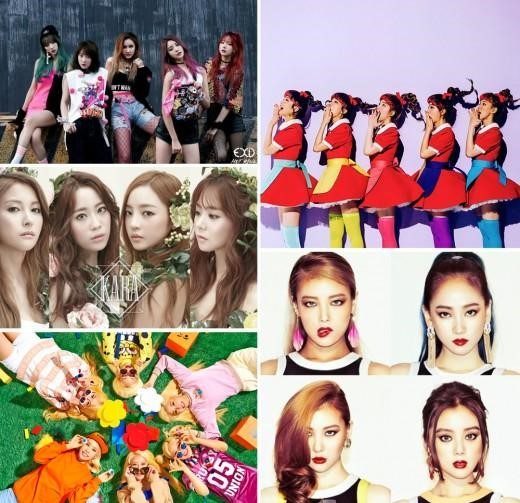 EXID, a girl group who initially debuted as a six-member group, but after two months, half of it's members had left (later forming BESTie). Two members, Solji and Hyerin, joined the group to replace the members who had left. The group finally hit it big after releasing "Up & Down" in 2014, and has experienced an amazing rise in popularity in early 2015 as they released "Ah Yeah" and "Hot Pink."
In 2014, members Nicole and Kang Ji Young left KARA following their contract expiration with DSP Media, leaving the agency to recruit a new member, Heo Youngji. Since the, they have successfully promoted in both Korea and Japan, showing that their popularity had not deterred from the loss of members.
It should also be noted that this is not the first time KARA had undergone a member change as they originally debuted as a 4-member group consisting of Park Gyuri, Nicole, Han Seungyeon, and Kim Sunghee. However, in almost a year after their debut in 2007, Sunghee announced her withdrawal from the group and was replaced by Goo Hara and Kang Ji Young. Following the lineup change, the group made a breakthrough in their careers with "Pretty Girl."
Wonder Girls are another girl group who has undergone frequent member changes but have always experienced a successful comeback. In the second half of this year, it was confirmed that former member Sunmi would be rejoining the group for their band concept album.
The group debuted in 2007 as a 5-member girl group consisting of Ye Eun, Sunmi, Sunye, Hyuna, and Sohee. Just months after debuting, member Hyuna withdrew from the group (later redebuting as part of 4Minute) and was replaced by Yubin. They saw another lineup change years later in early 2010 when Sunmi would withdraw to focus on her studies. She would later continue her career as a soloist. Sunmi was replaced by Hyerim.
In December 2013 and upon her expiration contract with JYP Entertainment, Sohee left the group and confirmed in July that she had officially left the group along with Sunye, who had gotten married in January 2013. With the two having officially left the group, Sunmi was confirmed to have rejoined Wonder Girls and together, the reformed 4-member group released Reboot and "I Feel You."
SM Entertainment girl group Red Velvet debuted in August 2014 as a four-member group: Irene, Seulgi, Wendy, and Joy. While they had the public's attention as a rookie group to look out for, the group did not see success until after the release of Ice Cream Cake in March 2015. This also happened to be the album in which they were joined by their fifth member Yeri. Since then, they have seen success with their next release, THE RED, and "Dumb Dumb."
New girl group myB made their debut this year with "My Oh My" in August 2015 with members Moonhee, Jookyung, G-WON, U-Jung, and Heejoo. Just recently, the group returned with a new release "DDODDO" in October, however, with a lineup change as they add their 6th member Hayoon. Hayoon is 17-years old and known for her singing and dancing as well as other various field.
However, with the group still in its infancy, will the addition of a 6th member end up benefiting myB? Time will only tell!
There have been various other girl groups (and even male groups) who have undergone lineup changes since their initial debut, including but not limited to T-ARA, After School, and more.
Source: TV Report
Share This Post