Minzy explains her decision to join Unnies new 7-member Girl Group
Minzy explained the reasons behind her decision to join KBS' "Unnies Slam Dunk 2" and the shows girl group project.
On February 8, KBS held a press conference for "Unnies Slam Dunk 2" with all 7 members of the show present. Minzy was joined on stage by her new group members, Jeon Somi, Kim Sook, Hong Jin Kyung, Kim Joo-hee, Han Chae-Young and Hong Jin Young.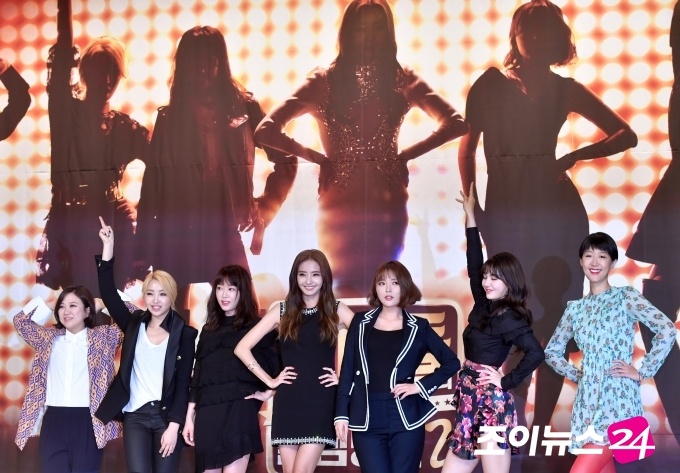 At the conference, Minzy confessed that she joined the new girl group and show because of the cast members.
"I decided to join the show because of the [girls] on the show. They're so fun and special and its an honor to be in a variety show with them.

I also feel a certain level of synergy with the cast members as a whole. I feel like I've met my emotional cheerleaders."

— Minzy
"Unnies Slam Dunk 2" has shifted the premise of the show to be focused on the creation of a girl group with the main cast as its members. In the first season, the show was centered around following the attempts of each cast member at achieving their dreams.
When Season 1 cast member Min Hyo Rin revealed her dream was to be in a girl group, the other cast members came together to make sure it happened. Eventually, the girls all ended up "debuting" together and even released a song that reached #1 on multiple online music charts.
The episodes that focused on Min Hyo Rin became the most popular out of the entire show and from there, the show creators decided to focus the entire of Season 2 on creating a girl group.
Fortunately, Season 2 will still have side projects that continue with the original premise of the show and focus on individual goals and aspirations of the cast. 
Fans of Minzy will be able to see the first episode of the highly anticipated variety show on February 10, 2017.
Source: MBN
Share This Post