miss A achieves a perfect all-kill across music charts with "Only You"
miss A has achieved the highest all-kill status with a perfect all-kill with "Only You" before the end of the month!
Less than 48 hours after the release of their music video "Only You" and mini-album release of Colors on March 30th, miss A topped the charts with their title track and crossed over the two million view mark on YouTube and YinTueTai.
On March 31st at 11:29PM KST, iChart recorded miss A in first place for 11 online music's real-time and daily charts, including MelOn, Mnet, Bugs, Olleh Music, Soribada, Genie, Naver Music, Daum Music, Cyworld, and monkey3.
"Only You" was previously revealed, before its release, to be greater than miss A's debut track "Bad Girl, Good Girl," and has proven itself with its latest achievement. The girl group, who has yet to take up their first comeback stage, will be performing the track for the first time on Mnet M! Countdown on April 2nd.
*NOTE: #1 on seven online music charts is deemed an all-kill. #1 on all online music charts is deemed a perfect all-kill.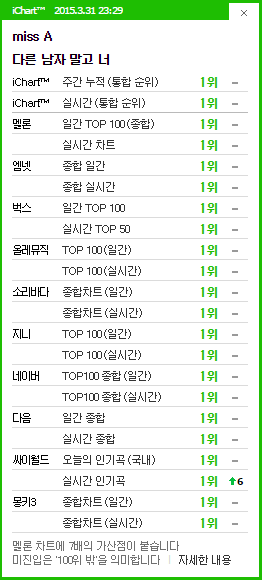 Share This Post