Mnet reveals nominees for the 2016 MAMA awards
Mnet has released the nominees which include artists such as EXO, SHINee, and Mamamoo.
On October 28th, Mnet opened voting for the 2016 MAMAs which will be open until the first of December. There are 19 categories to vote in and an abundance of artists to choose. Categories range from "Best New Male Artist" to "Best Music Video". BTS was nominated the most by being in 4 different categories.
Fans can vote once per day until December 1st. Mnet has also included a "Star Cheer Event" for fans to participate in. The event allows you to support your favorite artist with "Star Points" which are given after voting. The artist who was given the most stars by fans will have their name displayed on a banner. By doing this, fans will also be able to enter Mnet's giveaway. The prizes included signed CDs, from select artists, and MobiFren headphones
Mnet has described the award show to be "The greatest music award show in Asia,
a global music festival enjoyed all around the world." The event includes red carpet events, an award ceremony, as well as a music festival. The lineup for the music festival has been leaked and might include artists such as Got7, Monsta X, and Red Velvet.
The 2016 MAMAs will be held in Hong Kong on December 2, 5pm KST. It will be broadcasted worldwide through Mnet and can be viewed online on Mwave.
Vote here for the 2016 Mnet Asian Music Awards!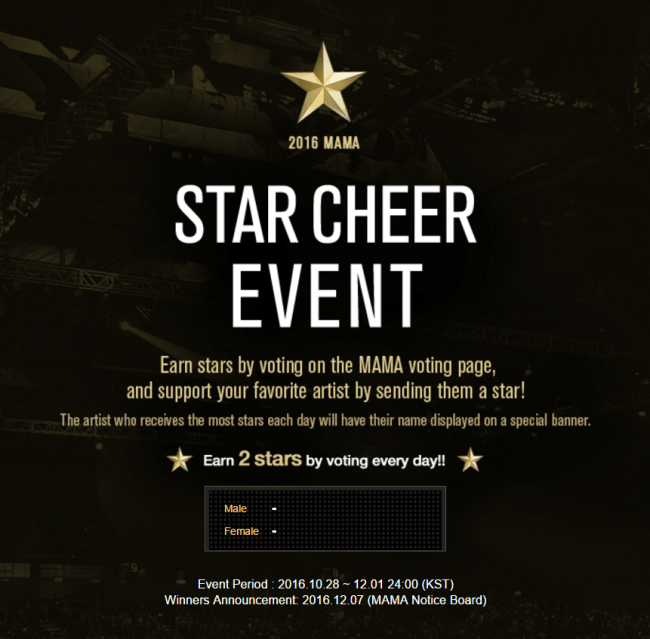 Source: Mnet
Share This Post