Naver Poll reveals who is the Best Girl Group Visual Member in K-Pop history
The votes are in! A recent polling held by Naver had netizens vote for the top most visual member of girl groups in K-Pop history. 
Conducted between October 26th and 27th, the poll attracted over 140,000 netizens (146,136 to be exact) in just a span of two days.
Taking over a quarter of the votes was S.E.S's Eugene with 25.8%. S.E.S is a first generation idol group who became one of the most popular girl group at the time, and debuted under SM Entertainment as a trio including Bada and Shoo in 1997.
Despite breaking up in 2002 and going their own way, the three have continued to show strong friendship throughout the years even through marriage. They recently held a short reunion on Infinite Challenge's "Saturday, Saturday, I Am A Singer" (commonly known as "Totoga") though due to her pregancy, Eugene was unable to participate and was represented by Girls' Generation's Seohyun.
Find out what Netizens had to say about this article below!
In 2nd place is Girls' Generation's Yoona with 15.9%. She debuted with the group in 2007 and continues to promote with them until today. Since her debut, Yoona has spanned her skills into acting, appearing in such dramas as You Are My Destiny, Love Rain, and Cinderella Man.
JYP Entertainment power visual and miss A member Suzy takes in 3rd place with a close 15.4%. Similar to Yoona, she has branched off into acting as well, appearing in dramas such as Dream High and Gu Family Book and films like Architecture 101. She is set to have another film released this year, The Sound of A Flower.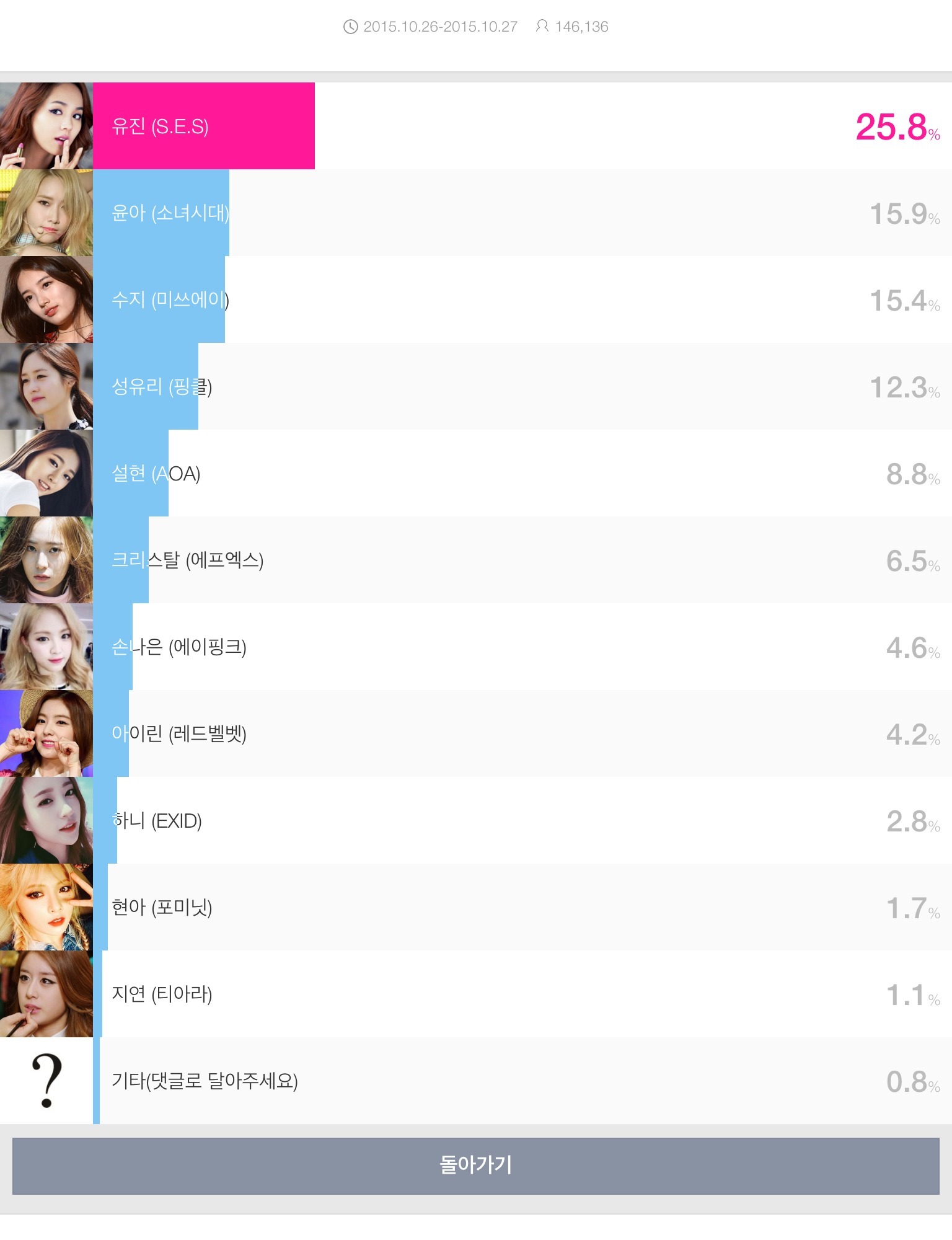 1st S.E.S's Eugene (25.8%)
2nd Girls' Generation's Yoona (15.9%)
3rd miss A's Suzy (15.4%)
4th Fin.K.L's Sung Yuri (12.3%)
5th AOA's Seolhyun (8.8%)
6th f(x)'s Krystal (6.5%)
7th Apink's Son Naeun (4.6%)
8th Red Velvet's Irene (4.2%)
9th EXID's Hani (2.8%)
10th 4MINUTE's Hyuna (1.7%)
11th T-ARA's Jiyeon (1.1%)
12th [Etc – Please comment] (0.8%)
---
NETIZEN REACTIONS
Koreaboo has collected reactions from Netizens who commented on the original article from our Korean source. The below comments are the most popular comments at the time of this article being published.
---
[+ 5131, – 565] On the first airing of S.E.S the entire country went crazy even celebrities were going crazy how pretty she was.
[+ 3577, – 452] Of course it's Eugene
[+ 2901, – 765] Sung Yuri's visuals tho…
Source: Naver
Share This Post