Netizens defend Stellar for their revealing outfits and performances
Stellar recently revealed why they continue with their ultra-sexy concept despite massive amounts of criticism from haters.

Stellar is notorious for their sexy performances, wearing provocative and revealing outfits. They have been receiving a lot of hate since their debut with many netizens leaving malicious comments regarding their performances. Many have called them "sluts seeking attention" while some claimed that their sexy concept is also a form of art. The music video that is under much criticism is for their song "Marionette."
In an interview with Star News, girl group Stellar explains the reasons why they continue to make comebacks with a sexy concept that is considered too provocative by others.
Stellar recently made a comeback with their new song "Vibrato." This video too received a lot of attention as they released two versions: 18+ version and PG version.
Star News reported that although these groups have been under fire for provocative content, the members seemed to be normal 20-year-olds despite haters' thoughts of them. Stellar confessed in the interview that although they have tried to release two unprovocative songs after releasing "Marionette," they weren't able to get any attention from the fans and they had to end their promotions early.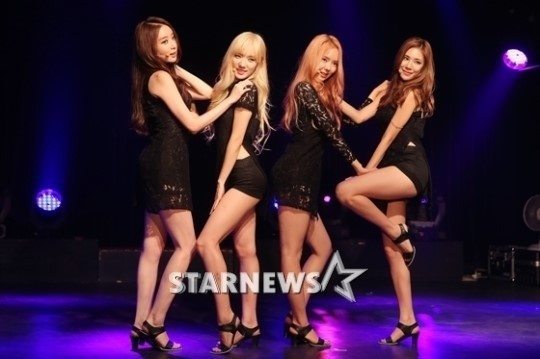 In response to their continuous provocative performances, Stellar commented:
"Many people asked if we could continually come out with provocative concepts. But we think that because of our title 'Vibrato,' more people listened to our song. There are many people that criticize us for our sexy concepts but we wanted to be satisfied that at least many people will hear our songs. That is how confident we are in our songs."
In response to people's criticism towards their "Marionette" promotions last February, Stellar reponded:
"We thought that we had to do something provocative to initially gain attention. Last year, we were fed with many malicious comments towards 'Marionette.' We were insulted but many people found out who we were. But we released two more songs afterwards but nobody knew us besides our fans. But this time, we gained a lot more attention through one teaser photo. We believe we need to gain attention first. Peoples' lack of attention is scarier than their hate."
After various news outlets reported on their interview, many netizens who originally insulted their provocative content changed their attitudes. Instead of just insulting, netizens started to think of their situation and started to talk of the issue rationally.
Here are the comments below:
[ +5750 / -739] I think it's the difference between the powers of entertainment companies. If Stellar wears bathing suits, they get insulted on but girls who wearing bathing suits as a band are considered 'nice' revealing.
[ +3764 / -155] Their song is actually okay but I believe the revealing performance hides the song a little.
[ +3246 / -233] The song 'Marionette' itself is good… but what if wasn't??
[ +2526 / -227] Why would they go to this extent… fighting!!!!
[ +2255 / -1116] Try to get popular through otherwise, why only revealing content;;
[ +639 / -22] They can't give up because there are cases like AOA and EXID
[ +496 / -24] This is such a realistic interview…. It shows the hidden truth under idols that aren't famous yet..
[ +475 / -28] 'We prefer the hate over no attention…' That makes me feel a little sad…
[ +312 / -57] Actresses reveal their chests in movies. Compared to that, artists don't even reveal anything.
Source: Star News
Share This Post