Netizens find alleged history of SM Rookies' Taeyong obscene comments
Recently, SM Rookies' Taeyong has become a hot topic among Korean netizens for alleged scams he was involved with when he was younger, on a website called Joonggonara, where you can buy and sell second hand items, similar to eBay.
This scandal stemmed from alleged comments made by Taeyong online, which contained demeaning language concerning a group of Japanese students.
Koreaboo has compiled and translated some of the accusations of the alleged scams which he has been accused of, as well as screenshots that those who are claiming to be victims have posted on other websites, including their personal exchanges with the seller who is assumed to be Taeyong. In addition, we included the original post which started the speculation regarding this SM Rookie.
WARNING: This post contains coarse language and is not appropriate for minors.
Teayong's ID (hssarang98) on Joonggonara was reported for inaccurate information on the item and was accused of being a scam artist. According to this report, it looks like Taeyong was into gundam toys when he was in his second year of middle school.
"I would like to let everyone know hssarang98 is a second year middle school scam artist. The state of the product described in the link below are all lies. The state of the Gundam is all wrong.
He has also stated there are no parts missing, but when I opened the box it was missing its hand and boomerang.
So I told him I would switch the Gundam for the Double 5 model mentioned in the post, and it turned out not to be the Double 5, but the Exia model (he tried to fool me into believing that it was a Double 5 model).
Then he told me to come over to where he was (Shindaebang Station) when he was the one at fault.
I've reported him of course. Don't buy anything from this guy."
This screenshot shows a message from hssarang98 which implies that Taeyong wrote the following message:
"Idiot, you said you're a high school student? You've gotta be joking you even fucking hung up because you got scared ㅋㅋ. You can't even swear properlyㅋㅋㅋ you're so sad you scum"
A collection of messages from user hssarang98 was also compiled and it revealed a great amount of coarse language, although the subject matter seemed to only concern meeting up to complete the transactions that were made on the website.
"I'm researching where fucking Yongsan High School is you son of a bitch ㅋㅋ. I've got mad contacts, you know? Just wait idiot ㅎㅎ I'll come tap you in the face and rip your uniform up ㅎ"
The recipient of the message replied, "What's taking you so long? Come on~" to which he responded, "You don't have a mother do you you motherless retard ㅋㅋㅋ"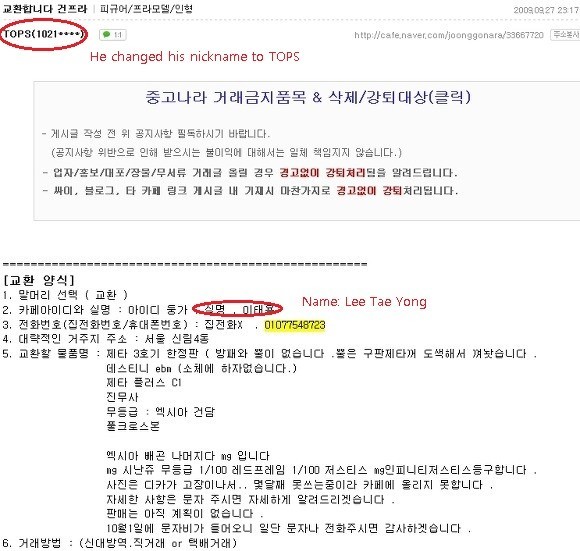 Later that same month, a post by user TOPS with a different login ID was discovered and reported for interfering with another person's sale by disrupting the post. This second account included his real name "Lee Tae Yong."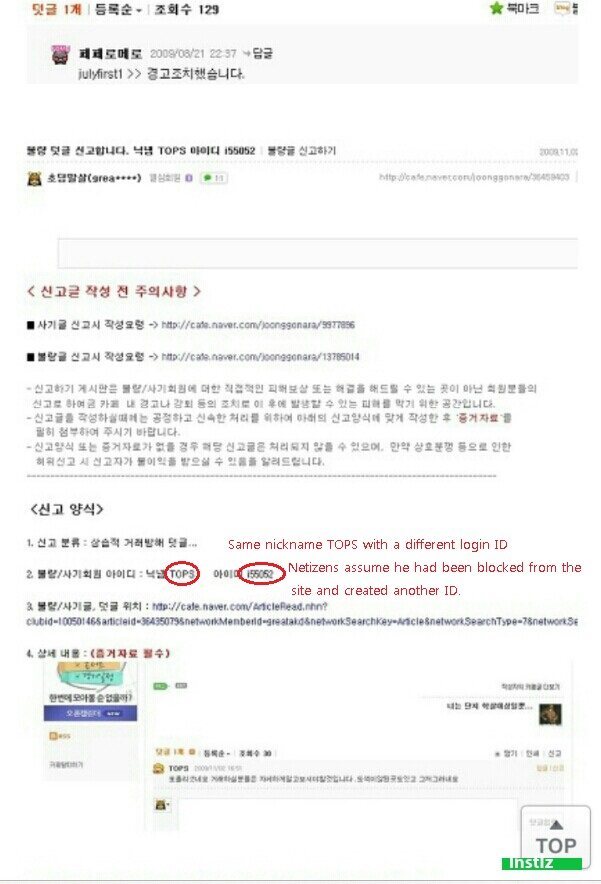 The officially filed report stated the user TOPS with login ID i55052 had "repeated interference of sales through comments" which disrupted others' ability to sell their own products.
In relation to this, netizens found that two months prior to the report concerning TOPS' interference, there was a post which stated user i55052 (TOPS) was a scammer. It goes on to say that i55052 took a product but never paid for it through bank transfer (as agreed on). The post described the user as around 13-15 years old and approximately 165 cm (~5 feet 4 inches) and included his phone number (010-9953-8723).

TOPS was active two months prior to and reported in the same month as the first incident concerning user hssarang98's coarse exchange with a buyer. The reason why it is believed to be Taeyong on both accounts is that hssarang98 posted (above) with his phone number which matches that of TOPS' account which is linked to his real name.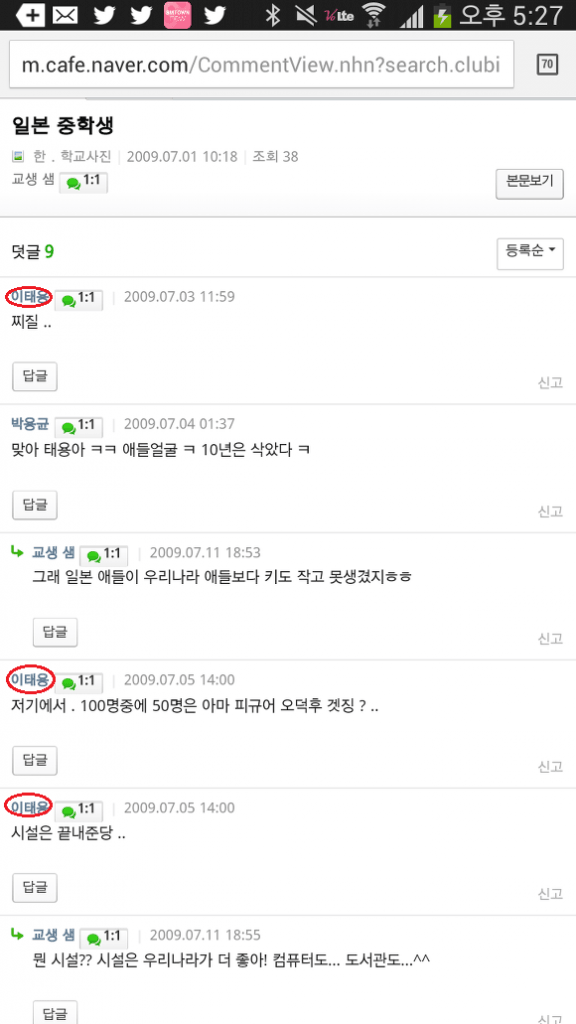 Originally, after someone had posted a picture of Japanese middle school students, a user on Naver under the name Lee Taeyong commented:
Taeyong: nerds..
Taeyong: 50 of those 100 are probably figure otakus.
Taeyong: They have nice facilities though..
These posts are where the alleged scandal began. An online community that focuses on trainees, specifically in the section regarding male trainees, revealed that Taeyong attended South Seoul Middle School. A fan dug further into it online and found a nickname Lee Tae Yong whose login ID for the account was Julyfirst1, which just so happens to be Taeyong's birthday.
Following news of these comments, netizens began to look into Lee Taeyong as a name online and eventually connected it to Taeyong's alleged activities on Joonggonara.
SM Entertainment has not responded to these speculations despite its continuous rise as a topic of discussion among netizens.
Source: Bottomtrip
Share This Post