Netizens harshly critize WINNER's Mino for scripted mistake at SBS Gayo Daejun
The 2014 SBS Gayo Daejun continues to be spotlighted due to its various accidents and mistakes, with the latest target being WINNER's Mino, who acted as one of the five main MCs of the night.
During one of his MCing pieces, he was caught saying, "shook up the yuldo Korea…" 
While yuldo, or archipelago, and bando, or peninsula, can ideally be used interchangeably, in Korea, yuldo is a term used specifically for Japan and bando for Korea.
Initially, Korean netizens criticized Mino's "slip of the tongue," voicing out their disappointment, commenting, "I guess he studied English only so he could rap," "I don't know if that was scripted or adlibbed but if it was scripted how did they not catch it during rehearsal," "Even if it was scripted he should have caught the mistake," and "This mistake isn't even laughable."
Following initial reports, sources revealed to Korean media portal Daily Sports that the term yuldo was written on Mino's script, from which he read from cue cards on stage.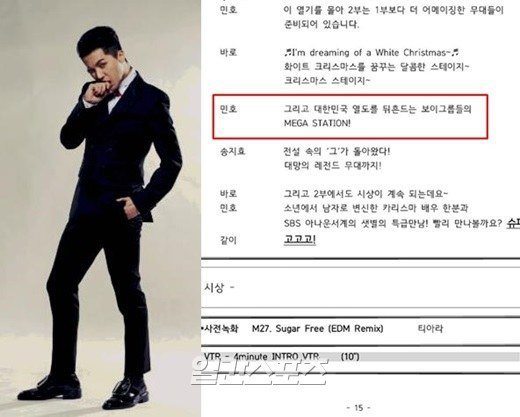 Daily Sports continues to report that while Mino should still be criticized for overlooking that mistake of yuldo being used instead of bando, Mino is still a rookie that made his debut less than a year ago. The SBS Gayo Daejun stage is a giant stage to partake as a rookie, and to take on the role of MC while still being new to the entertainment world is quite a feat, as he did not make any other mistakes during the broadcast.
YG Entertainment has yet to make a comment on Mino's yuldo comment and could not be reached.
Source: Asia Today and Daily Sports

Share This Post