Netizens react to Lee Jung Hee's alleged massive scam
After news emerge of Lee Jung Hee's allegedly massive scam, netizens criticize people who supported Lee Jung Hee without proof.
On the program We Want To Know The Truth, Lee Jung Hee was seen acting suspiciously along with her two sons. According to Lee Jung Hee's husband and sister who are both accused of crimes in the rape case, Lee Jung Hee is not only mentally unstable but also follows a traditional Korean shaman who believes in ancestors and ghosts. After the program aired, netizens gathered to talk about Lee Jung Hee and her alleged lies.
Titled "'The Mother and Two Sons Rape Case,' Netizens Need To Know What They Did Wrong," netizens gathered to discuss and criticize peoples' involvement in supporting Lee Jung Hee without solid proof.
This is the direct translation of the post and comments below.
"All of those netizens who didn't look for any proof but really just believed in someone's words like bugs and made an innocent person look like a true suspect. Trying to make decisions through emotions leads to this kind of result. You guys spread this case all over international media too right?? All of the people who were suspecting Lee Jung Hee were cussed at hahahahaahhaha That is why I don't trust anything on the internet without solid proof. hahahaha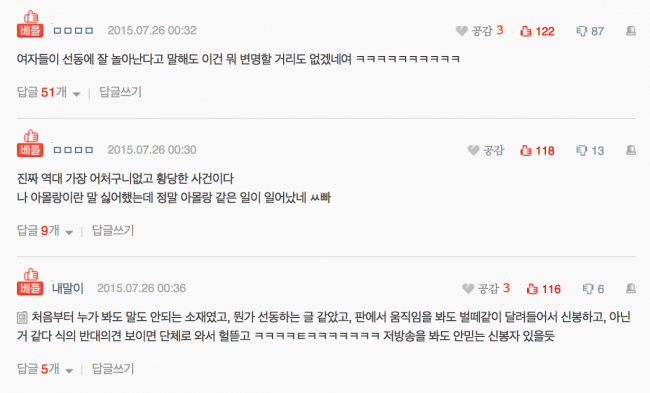 [ +122 / -87] There is nothing for people to defend themselves with even if I say girls are easily misled hahahahaha
[ +118 / -13] This is a case that I really don't know what to say about. I don't like to say 'Ah I don't know" but this case is literally like that fuck.
[ +116 / -6] From the beginning, the case didn't make any sense. And the writing she posted seemed like a scam asking for support. But people supported her like bugs. If they saw people suspecting her, they got cussed at hahahahhahahahahaha I bet there are people who still will support her even after seeing the program.
Source: Pann
Share This Post