One of JYJ's biggest fanbases withdraws support for Yoochun
A strong fanbase of JYJ expressed their disapproval towards Yoochun with regards to his recent rape accusations. 
On June 17th, it was discovered that even the fans of the group JYJ have turned their back on the singer and actor after he received a number of sexual assault charges. 
One of JYJ's biggest fanbases on DC Gallery already expressed their distaste about the incident and revealed that they will be withdrawing support for Yoochun. The online fanbase is said to be focusing their attention on JYJ members Junsu and Jaejoong instead.
In a statement, the fans explained their withdrawal, starting off by recalling the endless support they displayed as the three members sued their former agency for unfair contracts back in 2009, which was one of the reasons why they have supported the members in their ongoing ordeal. However, since the news of Yoochun's charges came to light, it felt unfair for fans to succumb to such injustice in favour of supporting him, and hence, announced their withdrawal.
As of this article, Yoochun has received a total of four charges ever since the first case was reported.
The following is a direct translation of their statement.
As of 2016, 06, 17 DC JYJ Gallery supports only Kim Jae Joong and Kim Junsu
We strongly criticize Park Yoochun for his scandalous actions and will leave him out in all contents and not activities related to him
DC JYJ Gallery has supported Kim Jae Joong, Kim Junsu and Park Yoochun since 2009 ever since they started fighting their unfair contracts. The biggest reason was that they were fighting something bigger than them and we believed their sense of morality was strong.
However, knowing that he has frequented a place that sells sex it makes no sense that a fandom that has fought injustice continue to support him
JYJ now withdraws all support and past support from said member.
DC JYJ Gallery is going to do all in its power to protect Kim Jun Su and Kim Jae Joong from wrongful rumors
We express great rage at Park Yoochun for deceiving fans for the past 13 years and stomping on the youth they spent supporting him.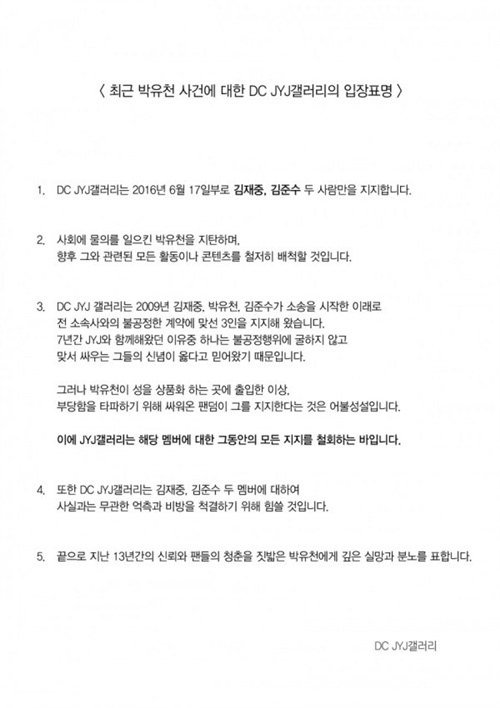 Source: XSportsNews
Share This Post