Hong Jin Young involved in bad car accident on the way back from a schedule
In breaking news, a popular solo artist has been involved in a terrible car accident, reveal reports.
On October 9th at 1am KST, Hong Jin Young's van collided with a truck at an intersection as they headed towards Seoul. At the time, Hong Jin Young was returning from one of her schedules in which she completed a concert at Pusan University.
TV Report published a photo of her van, revealing the seriousness of her car accident. The van's front side is completely totaled. Fortunately, no one was badly hurt and no life was lost.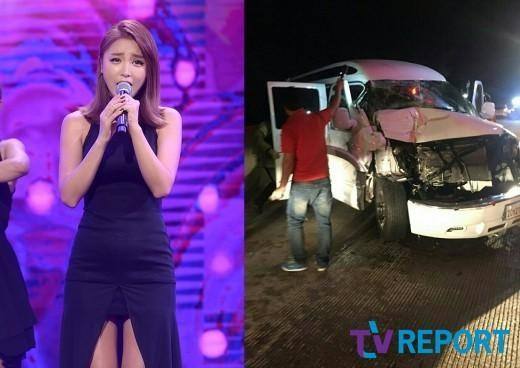 "None of the people aboard were wounded, but everyone was transferred to the hospital immediately after the accident. Everyone has already returned home to rest," said representatives of Hong Jin Young. "An auto insurance agent arrived on the scene to oversee the situation."
According to her agency, Music K Entertainment, Hong Jin Young was able to walk away without any major injuries due to having her seatbelt on.
Hong Jin Young is a popular trot singer in Korea known for her bright personality. She recently appeared in Running Man along with Eunhyuk of Super Junior.
Source: TV Report and Dispatch
Share This Post